Home
»
China military
» Aviatrix said the new clothing is comfortable and the training have come black as the phenomenon
Aviatrix said the new clothing is comfortable and the training have come black as the phenomenon
Date:2011-09-02
Author:admin
Category:China military
Comment:0
wearing a new outfit female pilots flying shape of cool! Special correspondent Chen Lingshe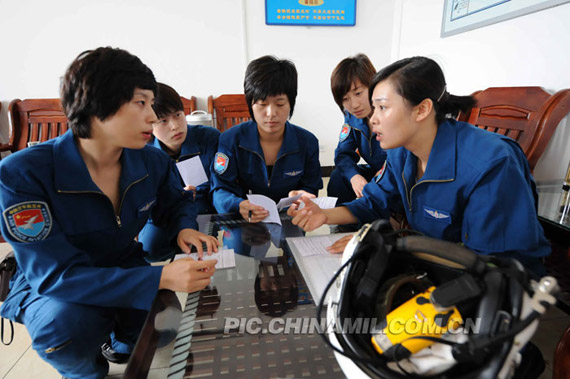 excellent results from special correspondent Chen Lingshe unremitting efforts
correspondent Liu Xinxin SUN Li
China's first female pilot in the 10 fighter January flying fly over Tiananmen Square, this is the new China was founded 60 years ago by the reading of the first female pilot with fighter, so much public attention. Upon receiving the parade Zhezhi first task force can not be bright spots in the parade? Only two weeks away from the parade, female pilots were the psychological status? September 13, the reporter interviewed an airport in northern China is being prepared to parade and female pilots in training female pilots ZHANG Xiao-captain Liu Xiaofang.
tailored for the female pilots flying fighter loaded with
ZHANG Xiao-simulation training at an airport in a room to sit down, her body navy blue pilots clothing caused a reporter's interest.
ZHANG Xiao told reporters that the past is not women-only flight clothing, and male pilots are common, if you looked from the back, it is difficult to distinguish gender. The Air Force authorities organize a special force, in a short time to complete design and manufacturing for the 16 fighters tailored to a new female pilot flying harness, this is one of the beautiful clothing.
clothing is designed to both draw on advanced international experience also highlights the characteristics of the Chinese Air Force. The overall tone is dark blue, seemed calm atmosphere, do not have a left chest logo of blue and white Air Force, fighter designs painted on the armband. The piece of clothing design also features waist design that reflects the beauty of female figure. When a reporter asked about the feeling of starting to wear new clothes, ZHANG Xiao said with a smile, feeling the helmet is lighter than in the past, dressed up and feel more comfortable, pocket design and more user-friendly, is easy to use.
scientific assistance and education out of the "Black as the" shadow
want to wear clothing that body beautiful female pilot is not easy. Transformation as an important building of the Chinese air force results, which 16 fighters from more than 350,000 women pilots fresh out of high school students in the selection of new members at every level in nearly four years time, have been through basic training, early training and higher education teaching machine machine training, Peoples was concerned about the achievements of today's "day Jiaonv."
important as the tactical air force aircraft, fighter flying very fast, maximum load at between 6 to 9 G, close to the limit in such a state of overload control aircraft, is the female pilots who must step had difficulties. ZHANG Xiao of the 16 women pilots in the physical good, the overload tolerance has been strong, but have encountered on this issue a great challenge. Do when a flying stunts, ZHANG Xiao suffered a "blackout" phenomenon. "I was very nervous, is to constantly think, how I, as it will appear black, had never appeared ah." Recalled the circumstances at the time, ZHANG Xiao Organisation a frown, "appear several times later, I become more intense, I thought about to graduate, and how this situation at this time it appears. "teacher about the incident, told her it was a normal phenomenon. "We can say that almost every action a stunt pilot, flying in their career will experience such a phenomenon, black, as is a normal physiological response. I did not think she (ZHANG Xiao) care so much about this." In the side of the female pilot captain Liu Xiaofang said. In the teacher's help, ZHANG Xiao found the reason: the amount of training, particularly in summer, hot weather, loss of appetite, exhaustion lead to "black view" appears. "At that time teacher said to me, to sleep early every day, every meal they do not spit it hard to eat. Later, on the strength has returned, but I still did not dare to do vertical stunts." Until the exam before the last training, "I think this may be my last chance to try, so stay the course, made a Jindou, there was no blackout, so I would like to try the most difficult half a catty fight flip." catty fight turned turn in flight stunts in the maximum load, "in doing this action, I turn in the airspace in 20 minutes when the cockpit especially quiet, teacher saying a word, I knew he was waiting for my break through this hurdle. "Finally, she succeeded in out of the shadows, to get a good examination results.
parade is approaching, a lot of pressure, many ways
fighter to become a female pilot from the beginning, the girls became the media focus on the object. Upon receiving the new China, especially in the 60th anniversary of National Day parade task, great training pressure and intensity of media attention, as the female pilots who must face every day.
"In our 16 people, the just pulled out one possible than our peers seem to be more calm." Face questions from reporters, ZHANG Xiao hurry to give such a description . Indeed, the 86 year-old girl appears to have always had a leisurely, tolerant, as if the reporters had used a stiffer and the spotlight of the bombing. "A person in his life out of a small mistake, it should be harmless. But, with your camera, I know the audience will see the country, this time, I represent is the image of the Chinese Air Force, and training in preparation for the parade , we have more time to remember, we will fly on to Tiananmen Square, we are Chinese army's image and even the whole country, do not have any mistakes. "
young age how they carry this responsibility? "Is some very ordinary way, ah, like I like Tingting Ge, books, and so freed from the pressure." Under questioning by reporters, ZHANG Xiao finally embarrassed to say: "Ha ha, that is, with many girls like in the morning to get up, I heard an interview today to accept the reporter group, you can hear us loud scream – and then will use the best state to face a challenge. "Later, after the end of the interview, Captain Liu Xiaofang told this reporter: "the occasional scream, or otherwise, is a way to release stress, but really, in fact these girls have experienced a very difficult challenge, a lot of tears flowing, eaten a lot of pain. "
training of female pilots are more than the" surge "
" In my eyes, there are two "women" One is the valiant fighters female pilots, one is the general beauty of the "85 after" girls. "Liu Xiaofang commented on her team, young female.
is the form team of the Republic the first female pilot of fighter 16, the average age of just 23 years old. Growth in the new era of reform and opening up, has been deeply engraved on them the imprint of the wave of the times. Both their table, "Liberation Army Daily" and also "readers", "Youth Digest" or even "Ruili", "herself" … "They are very few opportunities for collective out, whenever this time, they will find the most beautiful clothes, wearing avant-garde of the sunglasses, that effort is very beautiful. "Liu Xiaofang filed this moment, in order that they feel pride and grievance:" Compared to their peers, they sacrifice too much for an ordinary girl to said, and lovers in hand with the shopping is another unusual thing, however, for these children is difficult to match the luxury. others sweet sweet honey in the mall the moment, they have braved the 40 degree heat at the airport in training. " "But we can not have their experience of happiness, when I first flew an independent, white clouds in your body, the blue sky at your fingertips, just the kind of intoxicating feeling of flight, training bitter now, but we were able to participate in a National Day parade, which is a lifetime that glorious event, I think you will see that our flight echelon of the Chinese Air Force will be zero seconds, zero-meter accuracy for people applauded! "
Related reading:
Photos: Interview with China's first female pilot fighter: decompression with a screaming way
related topics: Army Air Force 60th anniversary