Home
»
China military
» Marine Corps military Chuishi Ban disclosed method of making pie sign (Figure)
Marine Corps military Chuishi Ban disclosed method of making pie sign (Figure)
Date:2011-09-02
Author:admin
Category:China military
Comment:0
Marine Corps team's chef square foot is making pasta. Xinhua military correspondent Gong Linmeng photo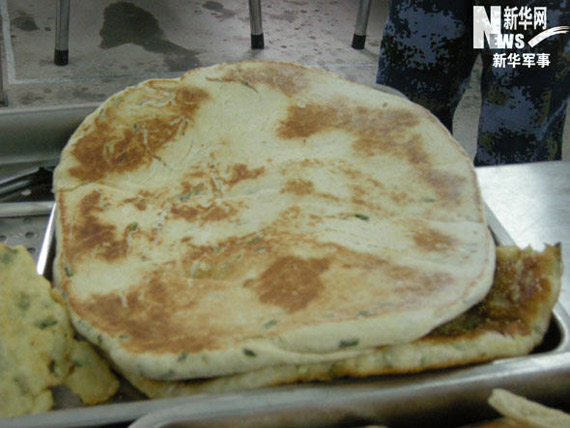 This is the "Marine Corps pie." Xinhua Photo by military correspondent Gong Linmeng
LONDON: Xinhua military since the launch of "Marine Corps pie," a series of photos, this looks tempting food quickly caught the attention of users. Many people want to know, "Marine Corps pie" taste how, is how to make it? Here, an interview with Xinhua military marines deliberately side team Chuishi Ban chefs from them about the origin of this pie, as well as specific production methods.
"Marine pie" with backing
River parade in the village, every morning and afternoon, there will be an intermission, and each side Team snacks are generally carried out at this time. In order to allow the rapid hard to add strength training to officers and soldiers, all team Chuishi Ban chefs have done their best, some carefully modulated side team to send the salt ponds, and some party team to send well-brewed green bean soup, sour plum, The Marine Corps side team snacks in addition to these drinks, there is a heavy meal, that is, "Marine pie."
Marines side team then think of how to do cake it? Since the original Marine Corps field training, which is why I usually make the cake easy to carry and save, a long day on the "R & D" signs out of their own characteristics cake; the same time, the officers and men of the village parade a great training intensity it is necessary to add strength to not eat too greasy, or indigestion, so the pie has become the best choice for snacks.
production methods Revealed
"Every day we have to do six different flavors of cake, such as gold cake, Sesame Rice Cakes, etc., but the land the most popular pie fight, the first to be eaten every day. "Corps Master Zhou Fang team Chuishi Ban told reporters," This cake first stutter up salty, the second mouth sweet, very soft, taste good, so most soldiers welcomed. "
week master," said Marine pie "Although it looks simple, but good taste to want to make is not easy. "Marine pie" of the production process and the ordinary pancakes are the same, but different from ordinary bread, "Marine pie" made of flour, when added to the onion, salt, sugar, baking powder, and butter, butter and flour ratio is about 1:0.2, that 1 kg of flour, add 2 to two cream, which makes the pie with the kind of salty and sweet taste.
week said the master, the marines side team spent a day light will make cake flour bags (bag 25 kg). And we understand that in order to soldiers eat well, instructors are more than a day got to get up 4:00 start busy gourmet cuisine. So, when we read for the valiant soldiers by the acclaim, but also can not forget the quiet dedication of the people behind them – for a sacred mission, they also sow sweat every day, and this sweat is the same. (Gong Linmeng)
related topics: the sixtieth anniversary of New China, the military parade