British Ministry of Defence confirmed that British and French nuclear submarine collision
Date:2011-09-02
Author:admin
Category:International military
Comment:0
UK "avant garde"-class nuclear submarines.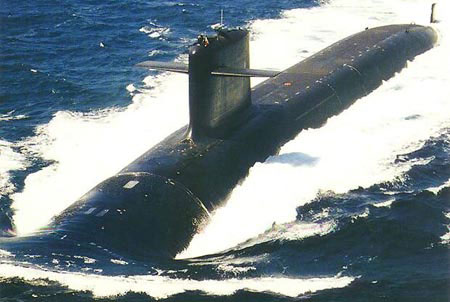 France Triumph class strategic nuclear submarines.
International (Reporters Lining Jing): 16, UK Ministry of Defence confirmed that two British and French nuclear submarines in the Atlantic earlier this month did a collision occur.
British First Sea Lord, said Jonathan Bender, the Royal Navy's "avant garde" and the French Navy's nuclear submarine, "Triumph" nuclear submarine in the Atlantic waters earlier this month, collision, two nuclear submarines were severely damaged, but no casualties. The official also said that two nuclear submarines in the water during low-speed road collision, crash did not result in nuclear safety issues. The current "avant-garde" was already headed back to base in Scotland.
Earlier, the British Ministry of Defence refused to confirm the accident, said the comment, "contrary to the activities do not comment on the submarine's policy."
have _COUNT_ -bit user comments I want to comment
. otherContent_01 p {line-height: 23px; margin: 0px;}
Related reading:
British Navy submarine to hide being a serious nuclear leak investigation (Figure)
British nuclear submarine leaked radioactive liquid into the nearby waters (Figure)
British Ministry of Defense announced the cause of persistent nuclear submarine accident (Figure)
magnificent British nuclear submarine collided with the rock nine soldiers injuries (Figure)
France launched the fourth ship Triumph-class nuclear submarines can be equipped with M51 intercontinental missile
related topics: Atlantic British and French nuclear submarines collided