Home
»
China military
» Japanese media said the government built 20,000-ton battleship targeting PLA
Japanese media said the government built 20,000-ton battleship targeting PLA
Date:2011-09-02
Author:admin
Category:China military
Comment:0
Japan DDG183 No. 20,000-ton helicopter destroyer renderings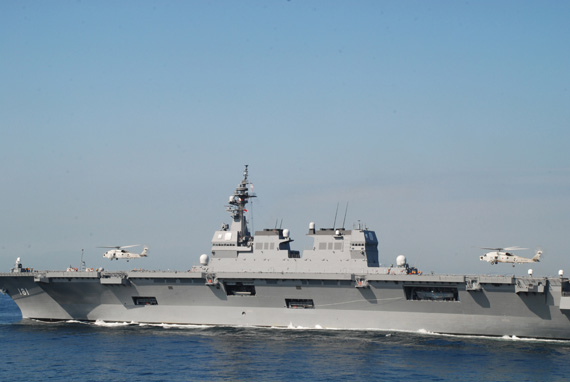 has served on the Japanese domestic DDG181 No. quasi carriers
LONDON October 28 news: According to Japan, "Asahi Shimbun Morning" 27 reported in 2010 Hatoyama government has asked Congress to grant annual budget construction weighs 20,000 tons of helicopter destroyer. Analysis, construction of a ship target is aimed at the fast-growing Chinese Navy.
August 31, Hatoyama government took office on the eve of Japan, the LDP-led Ministry of Defense suddenly released 2010 annual budget estimates, which decided to build a 20,000-ton helicopter destroyer, and requested funding for this 116.6 billion yen (about 8.635 billion RMB). Democratic Party came to power they will not approve the expansion program, the Japanese military expansion will take position on the issue, once regarded as observed Hatoyama government military policy of the citizenry.
The report describes that the Japanese government want to build a new destroyer than the largest of Japan's "day to" helicopter escort large, length 248 meters, 38 meters wide, the standard displacement of 19,500 tons, can carry 14 helicopters, 4,000 staff, can transport GSDF 3.5 tons truck 50, and has both the ability of five helicopters taking off and landing. Ship for other ships at sea refueling.
According to the Japanese military experts God Uramoto Akira analysis, according to the practice of the ship should be named DDH183, may build two. The two ships under construction may have been in service DDH181 DDH182 and were assigned to naval convoy of four (Yokosuka, Sasebo, Maizuru, Wu).
Japan, "Asahi Shimbun" Morning of the analysis, the Japanese Maritime Self Defense Force currently has two development objectives: first, targeting the Chinese Navy, followed by the implementation of a number of overseas peacekeeping missions. Reported that, in recent years, China's advanced destroyers equipped with cruise missiles, navigation in the vicinity of the East China Sea gas fields, the Chinese anti-ship Navy destroyer ability to improve the speed of the Japanese Government surprised. Japan's Ministry of Defense personnel, "in existing submarine aircraft with surveillance and search features based on the Japanese Maritime Self-Defense Forces must also have in each other's missile destroyer equipped with a range of other aircraft flying long-range warning."
relevant officials of the Japanese Self-Defense Force that through this "supply ship has a transport ship and escort functions" to expand the scope of naval activities, "This has not only frigate frigates, supply ships are not alone is a supply ship, a ship has multiple functions, thereby improving efficiency. " Although the number of future naval frigates will be reduced, but "the necessary equipment will increase."
but the Japanese Defense Agency officials denied the outside world about the new aircraft carriers, warships subject to argument, they said, "because it does not intend to lift aircraft on the deck, so its not the attack aircraft carrier," "the Japanese government in 1988. The Constitution stipulates that Japan has not allowed to attack aircraft carriers. " (Compiled: Spring)