Home
»
China military
» Hong Kong media said the air marshals -2000 were all equipped with radar-made supercomputer
Hong Kong media said the air marshals -2000 were all equipped with radar-made supercomputer
Date:2011-09-02
Author:admin
Category:China military
Comment:0
Domestic air marshals -2000 AWACS technology advance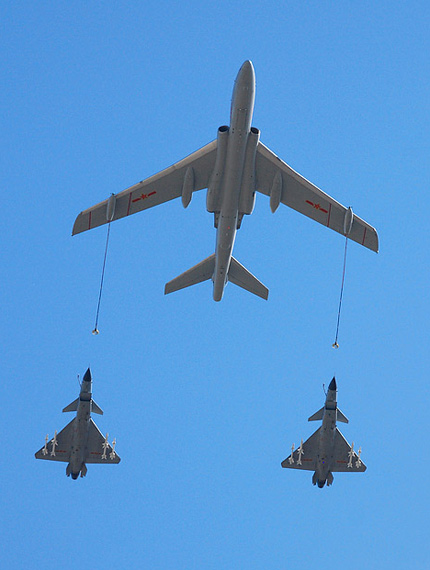 Day by reading the H-oil-6 and F-10 aerial refueling echelon

China-made Flying Leopard fighter-bomber flight training
" World News " Reporters/Jose
2009 年 destined to become China's Air Force "style years." National Day military parade in 60 years, the Chinese Air Force "of the national production of the lineup," has not only been widely praised by people, but also won the respect of their foreign counterparts. November 11, the new Chinese Air Force will celebrate the 60th anniversary. He will be proud of the Air Force deputy commander of the recently announced, the Air Force from 35 countries will participate in the delegation-related celebrations. In addition, the Chinese Air Force will showcase various types of advanced aircraft, Air Force flight demonstration team for the first time J-10 aircraft to perform; "Air Police 2000″ aircraft such as the National Day parade will debut the suburbs of Beijing … … fighters will once again made become a focus of media attention. Recently, foreign media of Chinese air force weapons and equipment for the intensive coverage.
J-10 reflects the independent design
after 60 years of exploration and efforts, the Chinese Air Force's main fighter plane has been completed by the direct introduction, digestion technology to design and manufacture their own leap. One F-10 and F-11B "a light one heavy" fighters have become the main two types of Chinese Air Force air superiority of the "Heroes." Some Western media that the symbol of China in the development of J-11 fighter aircraft in the third-generation technology and already has considerable R & D capability. United States, "Aviation Week" that the F-11B fighter aircraft will have a multi-objective scanning/strike capability, and can mount the advanced medium range air to air missiles. British "Jane's Defense Weekly," The previous report also revealed that China's F-11B uses a partial stealth technology, the overall performance better than the Su-27.
If the number of F-11B aircraft and some Russian-made "shadow", then already in mass production of the J-10 can certainly be regarded as China's own design "model." Taiwan's "China Times" reported October 23 that the F-10 fighter is a multi-purpose, single-engine, single seat, tactical fighters, new shape and material, air concealed. J-10 development process from the point of view, the Chinese mainland for the introduction of military aviation technology, is no longer overwhelmingly rely on Russia, but another way to engage in research and development through technology transfer. Hong Kong, "China Review" report pointed out that the J-10 fighter using a unique pre-controllable canard canard delta wing to increase aerodynamic layout, the aircraft's fuselage, smooth lines, with a fusion of the fuselage wing technology. It is said that J-10 fighter used by the new-made radar can simultaneously track 10 targets, and can also guide the two "Charlie" -11 semi-active radar-guided medium range air to air missiles or 4 "Charlie" -12 active radar-guided medium-range air to air missile target.
"Flying Leopard" has become a common platform
the bombers, the new H-6 medium-range bombers and JH -7 "Flying Leopard" fighter-bombers have developed a variety of models, the Air Force to become the most reliable "common platform." H-6 on the weight of 37 tons, all-weather, all-round ability to strike. H-6 is present in all of China's longest-range combat aircraft, the flight range of up to 5,000 kilometers. 60th anniversary of National Day military parade a division of the Air Force pilot, said Fu Zhidong, H-6 mounted missile range of 100 kilometers, from launch to attack finished just 4 minutes, to achieve the highest accuracy within half a meter . In addition, China is still H-6, based on the development of the H-oil -6 tanker, making it the air force "multiplier." United States, "Chinese Defense" website article pointed out that China's oil boom -6 aircraft placed in the bomb bay tank, can make the load of jet fuel increased by 4 tons. 2 H -6 aircraft can protect the oil from the 12 F-8D aircraft formations composed of three combat cruise on the 1,200-kilometer radius of the battle.
JH -7 "Flying Leopard" is a two-seater, twin, all-weather, supersonic fighter-bombers. Its main mission is to combat the main ground attack and air combat capability both good, affordable remote intercept and escort missions. In addition, the Western media that JH -7 "Flying Leopard" model for the Chinese Air Force electronic warfare is the same "significance." According to the U.S. Strategic News reported that China is to JH -7 fighter-bombers based on the development of a performance similar to the EA-6B "Prowler" electronic warfare aircraft. JH-7 on the overall properties, it is very suitable to be converted to electronic warfare aircraft. The aircraft's maximum takeoff weight of 27 tons, equipped with two engines, bomb load capacity of up to 6.5 tons, can carry large amounts of electronic warfare equipment, airborne electronic warfare as a platform.
air marshals -2000 "technical advance"
interested only in recent years with the introduction of early warning aircraft, some of the countries, China has a strong effect on the early warning "forward-looking strategy." Back in the late 1960s, China had their own early-warning aircraft had carried out development work. Since then, China started paying attention to Israel's early warning system. China, Russia, three in 1994 to reach a related agreement. Accordance with the agreement, China will buy four installation of "Phalcon" early warning system. However, the trilateral cooperation is eventually thwarted by the United States. Since then, China began to develop early warning aircraft, independent of the "one project", and for nearly three years on the development of a "unique" and "Air Police 2000″ early warning aircraft.
According to Hong Kong China News Agency reported, "Air Police 2000″ The US-Russian early warning radar antenna is not the same as a rotation, on the contrary it is stationary. This confirms the "Air Police 2000″ is used in solid-state active phased array radar, because it only by electronic scanning for pitch and orientation detection, so no need to use outdated mechanical scanning antenna switch. Experts pointed out that the "Air Police 2000″ on the radar devices, super computer, console and software are designed and manufactured by China itself.
Some analysts have pointed out that after 60 years of development, China-made fighters have achieved a "qualitative leap", the models with reasonable, so much the level of the Air Force contract to upgrade. It is anticipated that China's future Air Force weapons sequence, there will be fighting stronger, better stealth fighter emerged. Chinese Air Force fighter localization and modernization will reach new heights. China is building a modern "Big Air" on the road to fast forward.
foreign media Comments Chinese Air Force "short board"
"World News" reporter/Jose
Army Air China 60 years, the progress is remarkable. But there are some media that the Chinese Air Force "inadequate." The most important is the aero-engine research and development is relatively weak, and the lack of a large aircraft platform.
large areas of aircraft and aero-engine development of the Chinese Air Force has always been "shortcomings." As early as 2008, Russian media have said, because the original is located in Tashkent, Uzbekistan, IL-76 transport aircraft manufacturing plant shutdown, resulting in not time to perform in Russia in September 2005, China signed on to provide 34 Il – 76 military transport aircraft and four Il-78 aerial refueling tanker contract. According to the Ulyanovsk aircraft factory sources, the earliest the plant until December 2010 to restore the IL-76 and Il-78 production. This makes the Chinese Air Force and the aviation industry in the large aircraft in felt "by others."
Chinese fighter has long been "heart" problems. U.S. Jamestown Foundation, a China expert Marc David commented that China has knowledge of the existence of errors on the engine, do not realize that "power first" in importance. British "Jane's Defence Weekly" have also pointed out that China's "Taihang" basic engine operation with Russia 20 years ago, the AL-31F rather, in some respects has not yet reached the level of the latter. China's next step will be a breakthrough in engine technology, the pre-research on the core machine and testing, high temperature materials, lightweight alloys, full digital control system, thrust vector technology and above, while continuing to improve the "Taihang" engine reliability and service life .
shortage for large aircraft and aviation engine technology is weak these two problems, the Chinese aviation enterprises to continuously improve the "Kunlun", "Mountains", "Taihang" series engines, they also launched a C919 "made great aircraft "project, in these two areas to catch up.
link
Chinese air-launched missiles to create a strong fighting force
after 60 years of development, Chinese Air Force has become a series of air-launched weapons, "long tassel sword" has become increasingly sharp. Hong Kong, "China Review" report said, "Charlie" -8 dogfight missiles developed by China is first attracted worldwide attention in air to air missiles. The use of infrared guidance, the maximum range of about 15 km, maximum speed of 2.5 Mach, the maximum overload 35G, is the world's outstanding third-generation infrared missile combat. The "Charlie" -12 is a newly developed China's advanced medium-range missiles over the horizon, its performance has reached the US-made AIM-120 and R-77 Russian-made medium-range air to air missiles and other advanced level, with a "launch and leave" the ability to use its overload of up to 38G, but also to ensure the implementation interceptor missiles to track high-mobility tactical air target. In addition, China has also developed a "day of Yan -90″ Helicopter-air missiles.
in-ground weapons, the Chinese Air Force has followed the world trend, began to equip the "Thunder" -2 laser-guided bombs and "FT" Series 500 kg and 250 kg-class precision-guided bombs. Thus, the Chinese Air Force fighter already has a sound means of attack. The weapons and equipment to ensure a high degree of localization will play a one hundred percent of the fighter combat.
related topics: Army Air Force 60th anniversary