Home
»
China military
» The fourth installment of the Chinese navy to escort naval fleet set sail from Zhoushan (Photos)
The fourth installment of the Chinese navy to escort naval fleet set sail from Zhoushan (Photos)
Date:2011-09-02
Author:admin
Category:China military
Comment:0
getting far away from the 526-ship. People's Daily correspondent Jiangshan She (Click to see Atlas)
commandos to wave off the soldiers and their families farewell. People's Daily correspondent Jiangshan She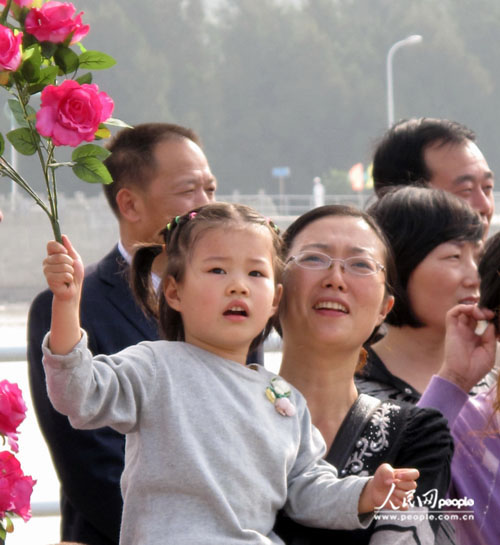 part of the officers and men to escort him off the families of terminals. (People's Daily reporter Jiangshan She)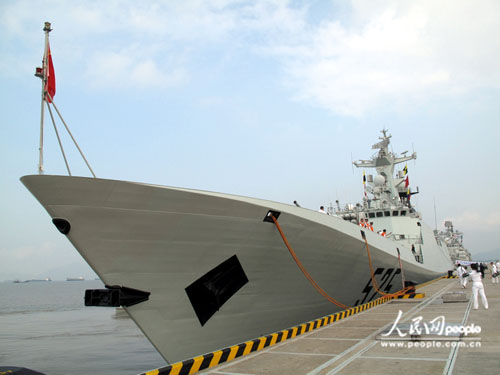 is about to sail 526 ships. (People's Daily reporter Jiangshan She)
Zhoushan People's Daily Online Military October 30 (Reporter country) today, 10 am, with the Navy's political commissar Liu Xiaojiang sail Video: China's naval fleet set sail fourth installment of the Gulf of Aden to escort Source: CCTV news channel command was issued, dressed in new uniforms of naval officers and men in their battleship fleet lined up on the partition to the motherland and Yanjing Li Zhuang people, waving goodbye. Chinese naval fleet to escort the fourth installment of the East China Sea Fleet from the naval port of Zhoushan sail, embarked on the ocean to the ocean, the Gulf of Aden, off the Somali coast perform escort missions, will complete the third with the Chinese navy fleet escort the normal replacement, and further show my escort action has entered the order to succeed, a new stage of normalization operation.
political commissar Liu Xiaojiang introduced, according to the Navy, the Navy since the implementation of escort missions, has successfully completed 127 so far approved 735 foreign ships with escort ships and 276 foreign missions cover the region, rescue suffered 16 pirate attacks on foreign ships ships, the effective protection of the flight safety of the ship through the Gulf of Aden. I formation commanders and soldiers in the convoy operation demonstrated by the professionalism, effectiveness and unique escort flexible way, has won wide acclaim at home and abroad.
fourth convoy formation by the East China Sea Fleet, "MOS" was, "Wenzhou" was made two new missile frigates and escort fleet in the third installment of the "Lake" comprehensive depot ship, and two carrier-based helicopters, dozens of special operations component, the formation of a total of 700 people.
Earlier, the Chinese navy has sent three batches of convoy formation. The first convoy formation, including "Wuhan" and "sea" missile destroyer and the "micro-Lake" comprehensive supply ship; second convoy formation, including "Shenzhen" missile destroyer, "Huangshan" missile frigate, and continued perform escort missions, "Weishan Lake" comprehensive supply ship. Formation by the third missile frigate made the latest "Zhoushan", "Xuzhou", "Lake" comprehensive supply ships.
Ministry of Foreign Affairs, Ministry of Transport, Zhejiang Province, the leadership of the four headquarters offices and some staff to escort the families of officers and men attended the farewell ceremony. ★
Chinese naval escort fleet set sail to go to the fourth installment of the Gulf of Aden Source: CCTV news channel broadcast video
related topics: Chinese naval escort to Somalia waters