British nuclear submarine accident to conceal a serious collision submarine 12 years (Figure)
Date:2011-09-02
Author:admin
Category:International military
Comment:0
data for: the British Navy, "sharp" attack submarine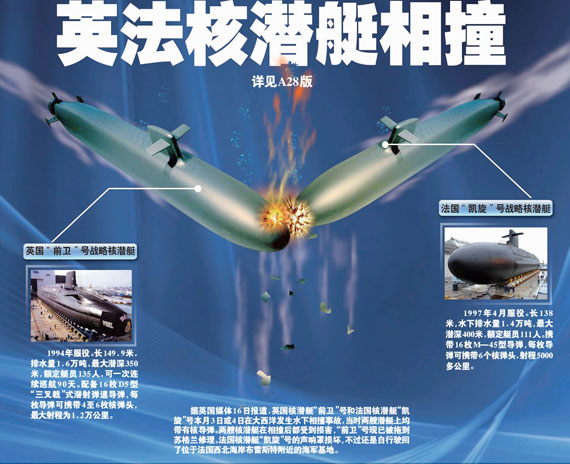 data for: British and French nuclear submarine collision diagram. Graphics: Liguang Peng Li Yuan
newspaper correspondent in Australia
British nuclear submarine accident caused by a frequent concern of the British Parliament, according to the parliamentary inquiry, the British nuclear submarine in the past 21 years, the average monthly occurrence with fire, there are two accidents every three years. And one of the most thrilling time in Australian waters is a serious collision occurred. According to "The Australian" 8 for the first time revealed that the British "sharp" nuclear submarine in 1997 near Perth, Australia in July hit a submarine, was concerned to conceal the accident, the Australian media has not publicly reported.
reported recently in the United Kingdom revealed a simple message, "sharp" was in July 1997, stranded in the coast of Australia. Allegedly, when the submarine is equipped with "Tomahawk" cruise missiles and heavy torpedoes, but did not carry nuclear weapons. Cause of the accident is a British submarine commanders misjudged the seabed topography.
"The Australian" the Australian quoted a former submarine crew as saying that he had seen the Australian Navy's internal report on the incident, which describes the "British submarine remains underwater at depths of 200 m , they suddenly surprised to find himself actually rubs up against the sea. " The crew members of another submarine, "said the submarine collision unaware, until you hear a huge noise just come to realize that friction." 7 Australian Department of Defence spokesman confirmed this, he said, "sharp" was stranded at the continental shelf in the seabed, but in the end to escape from the seabed, has been renovated and continue service. But this is not "sharp" was the first accident. In 1990 the British Royal Navy submarine, there had been the most serious incidents, when it wraps a fishing boat in the waters of Scotland's fishing nets, fishing with the turn, resulting in killing all four crew members on board.
United States, "Global strategic networks," the report said that after the British parliamentary inquiry, the Royal Navy nuclear submarine in the past 21 years, frequent accidents, 13 attack submarines and eight strategic nuclear submarines and a total of 237 fires in 14 cases collisions, crashes after half of the submarine are retired. Three submarines from a fire accident in the submarine anchored in the port, most of the other accidents occurred in the water. At this time the most accident-prone, because most equipment used in underwater high-pressure environment, which is the most British submarine forces need to be resolved.