Home
»
China military
» U.S. says China Kuznetsov aircraft carrier into combat at least ten years (Figure)
U.S. says China Kuznetsov aircraft carrier into combat at least ten years (Figure)
Date:2011-09-02
Author:admin
Category:China military
Comment:0
Chinese Navy Figure heavy aircraft carrier to imagine the future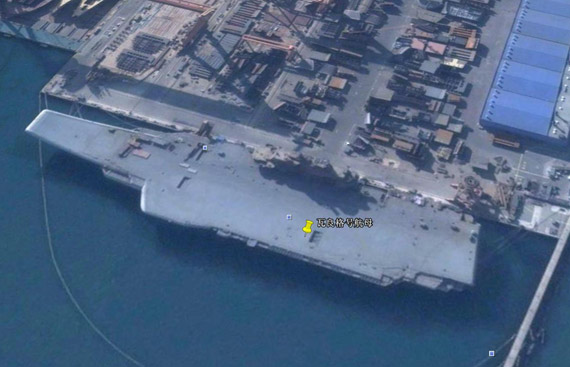 still be modified Dalian Kuznetsov aircraft carrier
2 U.S. UPI Asia Online published an article in the Asian countries competing to buy the carrier's tide in China not far behind, in addition to speed up repair of previously purchased Kuznetsov aircraft carrier, also plans to create two similar in Shanghai Kuznetsov, the use of nuclear-powered aircraft carrier. But the article also pointed out that carrier-based aircraft and personnel to proficiency is not easy, Kuznetsov aircraft carrier from the current state of repair at least a decade to put into combat.
Asian countries set off to purchase the aircraft carrier boom
article said that in recent years in Japan, India, Australia, South Korea, Russia and China and other Asian countries began to buy aircraft carrier wave. These countries showed a sudden focus on air power at sea has changed its mind, the Asian countries growing sea views air power line.
article points out, unresolved territorial disputes in Asia, in particular, maritime boundaries and territorial disputes relating to, resulting in construction of naval forces in the region. The Pacific island waters, deepwater oil and gas discoveries, the more prominence to the importance of sovereignty claims.
article continued that the European outbreak of the Asian economic downturn is one of the reasons to buy the aircraft carrier wave. European high-tech export market is limited, the economy increasing economic rise of East Asia and Southeast Asia as a major arms sales candidates. In addition, as the U.S. withdrawal from Iraq and Afghanistan, people might think that Asia will be about a flashpoint. This is also the Asian countries began their naval forces with a major symbolic – one of the reasons the aircraft carrier.
the case of India, the Indian Navy since 1987, fielded "virrat" aircraft carrier (INS Viraat) after decades, it has maintained two aircraft carriers, which enhanced its Indian Ocean's scope of action and ability. "Virrat" aircraft has recently been refurbished, can have been in service in 2015; 45,000-ton "Vikram Royal Asia" carrier is white along the coast of northern Russia Severodvinsk (Severodvinsk) accept the renovation, expected to be 2011 began sea trials.
India Cochin Shipbuilding Co., Ltd. is developing a new level, "virrat" carrier is the country's first self-developed aircraft. The ship's construction began in 2008, is expected to be launched in 2010. All carriers are able to support three models: "Sea Harrier" fighter, the MiG-29KUB, light aircraft carrier-based version of LCA, as well as from south to Bangalore, India, Hindustan Aeronautics Limited produced two-seater light aircraft Tejas.
However, the article stressed that some countries believe that the rise of the Indian Navy would defeat its military forces in Asia and economic interests. As the old mode of thinking is difficult to change, so the Indian government must implement active and effective maritime diplomacy.
Kuznetsov China still needs years into combat
China is also implementing a carrier procurement strategy. Photo shows, in 1998 China purchased the "Kuznetsov" aircraft carrier is docked at the Dalian harbor, and was painted the color of the PLA Navy. According to the article, although the ship will be transformed into semi-finished aircraft carrier "Admiral Kuznetsov" aircraft carrier class standards for some difficulties, but if funding is available, then it is not impossible. Reform in China, "Kuznetsov" aircraft carrier's determination to show that it is pursuing a "carrier dream."
The article said that China tried to be fitted out in 60,000-ton aircraft carrier as its "aircraft carrier Dream" start, which is an ability to jump to the unknown. This capability not only need to purchase aircraft, carrier aircraft and helicopters, but also need to have that in any weather conditions, the zero-error precision operations at sea, the 2,500 personnel and machinery.
article pointed out that China "Kuznetsov" aircraft carrier into the actual state from the modified state still take 10 years. U.S. intelligence community reported that China plans to build a shipyard in Shanghai, two new aircraft carriers. Obviously, these two aircraft carrier phase "Kuznetsov" was very similar, will use nuclear power.
As for Japan, currently under construction in this country "on the" class helicopter destroyer. The class destroyer is actually straight upgrade of amphibious ships weighing 18,000 tons, only helicopters. In view of the Japanese aircraft carrier the shipyard has a wealth of operational experience, the ability to complete its construction more than enough of this type of warship. Japan's new government recently announced that it will reconsider the United States and Japan over the last set of agreements. Moreover, the Japanese Government asked to withdraw the U.S. Navy base in Okinawa, Japan.
Australian Government has decided to re-purchase aircraft and has ordered two "Canberra" class aircraft carrier. If the hostile forces in the Malacca Strait appear, Australia need to ship the new shipping routes and traffic in northern Australia, then it will be imperative to protect Australian waters. Australian air power must extend to the Australian coast 500 miles away from the sea, shore-based aircraft can not perform such tasks.
article said that Australia "Canberra" (Canberra) class aircraft carrier with India "virrat" aircraft similar to the expected in 2014 fitted out. In enemy action, the class aircraft carrier capable of carrying 18 MRH-90 helicopters. The future of the Australian Navy will face the biggest problem is its ability to maintain well-trained professionals. In addition, there are reports that the Australian Navy under discussion will be "Christmas Island" the play caused an unsinkable aircraft carrier.
2007, Korea imported from the United States side by side installed a 18,600 tons, equipped with AEGIS system's "air defense destroyer." Ship with amphibious capability, but also helicopters. In addition, there is news that South Korean Navy will purchase the next four "Dokdo" (Dokdo) class amphibious assault ship, is mainly used to guard against North Korean navy. Currently, the so-called "transition carrier" (interim aircraft carrier) has caused widespread concern in ASEAN countries. The article said that South Korea is willing to have a very competitive shipbuilding, and, control of access to practical experience at sea, South Korea may be constructed after 2020, a larger variant ship.
Asian carrier project expenditures will exceed one hundred billion U.S. dollars
article said that as a participant in aircraft procurement project recently, Russia's motivation is to enhance its national pride, and to achieve its lease the previous strength of the desire. It is said that Russia is currently purchasing from the French one, "Northwest Wind"-class amphibious assault ship. So far, Russia's "Kuznetsov" class (Kuznetsov) aircraft carrier has been running for years, and that the Moscow government has the level of the Su-33 fighter wing aircraft deployed to Europe and the Mediterranean Sea. In addition, Russia this year in its "Kuznetsov" aircraft carrier class successfully test-fired supersonic MiG -29 KUB fighters for the Navy variant version.
In addition, reports indicate that Russia, the Moscow government is expected in 2025 and the Pacific to the Atlantic Ocean six new aircraft carriers stationed. Moreover, Russia to rebuild its naval power of the speed may be faster than any other country in the Asia Pacific region, it is because Russia has a good shipbuilding equipment, a large number of scientific and technical research and development investment in equipment.
article said that at present Russia's modern nuclear-powered submarines are to comply La Diwo Stockport-based, with its aircraft carrier battle groups to conduct joint operations. Protection of the Government of Moscow, who is also oil and gas-rich Siberian peninsula security task, because the island's resources to China and Europe in exchange for profit is the mainstay of the Russian economy.
north to Australia Fu La Diwo Stowe Kernan, across the Indian Ocean to the Suez Canal, along the Pacific, are experiencing the pains of economic recovery. As the world's fastest growing economies in the two countries, China and India has generated a lot of merchandise trade, trade in virtually all of these rely on sea transport. In addition, marine tourism is also on the rise, from Western countries began large-scale ferry docked in Singapore and Hong Kong.
However, the article goes on to support that with the increasingly frequent trade, security issues have begun to emerge, after all, there are also a number of Asia-Pacific region will be a destabilizing factor. In fact, the aircraft carrier itself alone can effectively provide sea and air forces of life, this is because the current Asian countries already lost related to critical infrastructure and construction technology.
The article said that in this decade, the Asian countries on the aircraft carrier project will cost over $ 100 billion, and that the next 50 years to provide support for the carrier infrastructure construction will be consumed 100 billion dollars. In addition, the next 50 years, weapons, fighters, helicopters and integrated system of procurement will also spend $ 100 billion.
Thus, for Western countries, the Asian recession of production aircraft to change their economic situation is a great opportunity, because they are suitable for military and industrial products to these countries. Moreover, the current needs of Asian countries has made recovery in Western industrial trends. Very few individual aircraft navigation, aircraft carrier battle group but by the cruisers, destroyers and frigates and other high-tech warships, so no support is also very high cost of battle. In the next decade, Asian countries will spend at least $ 200 billion to purchase the additional equipment. (Compass)
(edit: SN031)