Said the T-50 Russian 5th generation heavy fighter type before the end of flight (Figure)
Date:2011-09-02
Author:admin
Category:International military
Comment:0
data for: Esuhuoyi company announced PAK_FA fifth-generation fighter renderings.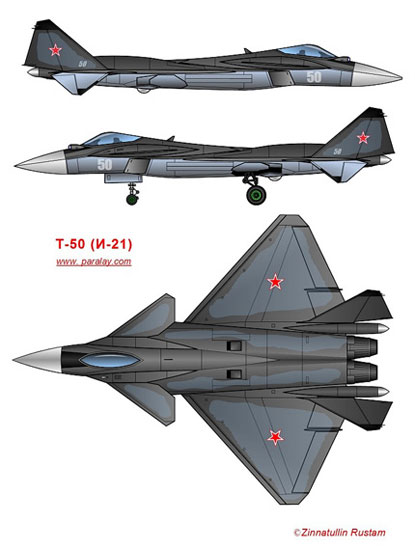 data for: three wing layout T50 Five heavy fighter program.
China Daily AP: According to British media reports, Russian Deputy Prime Minister Sergei Ivanov, May 11, said that since the Soviet Union since the Russian military aircraft will be the first new aircraft before the end of the first flight.
Ivanov day Amur River in the Russian Far East city of Komsomolsk, said: "The Prime Minister (Vladimir Putin) today (11) visited the aircraft manufacturer's part of the workshop, see the end of the fifth-generation fighter assembly stage. "
Russian fifth generation fighter T-50 single-seat twin-engine heavy fighter, with stealth performance, taking off and landing distance is short, super maneuverability, supersonic cruise and so on. According to Russian media reports of the technical indicators, T-50 maximum takeoff weight of 34 tons, 27 tons in weight to take-off, per hour maximum speed can reach 1900 km. The supersonic cruise speed of up to 1450 per hour, km, combat radius of 1100 km, combat load of up to 6 tons, built three weapons bays, flight performance and to achieve a good combination of stealth performance. (Global Online: Xiao Tang)