Asian countries, said U.S. Navy into the next five years will surpass Europe (Figure)
Date:2011-09-02
Author:admin
Category:International military
Comment:0
Data Figure: China's Navy 091 nuclear submarines in review. Correspondent Xuan Qi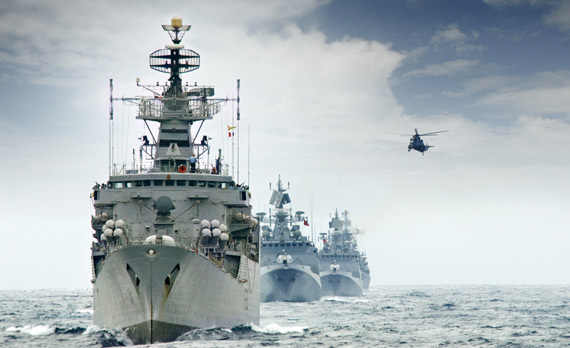 data for: Indian Navy's new fleet of destroyers and convoy
Si Global Times special correspondent reported that the king's navy is expected to Asian countries from the global economic slowdown, possibly even the next two years to five years over the European Union, to become world's second largest after the U.S. buyers.
According to "Lianhe Zaobao," reported the Asian international exhibition and conference of Coastal Defence (IMDEX ASIA) provides consulting services to the U.S. Maritime Analysis and consulting firm AMI International predicts that the Asian region in the next two years will reach into the Navy $ 25 billion, up $ 60 billion the next five years; contrast, the U.S. and Europe will reduce the budget by the financial turmoil.
AMI vice president of international Nugent (Bob Nugent) 12, said Asian countries into the next five years will cost to buy ships and the United States comparable, but the EU is estimated to cost $ 47 billion to Russia, led by non-EU European countries the cost is estimated $ 11 billion.
about naval construction markets in Asia, Nugent said, multi-surface warships, amphibious operations in line with air ships and submarines will be the main countries to buy equipment. Among them, submarines and frigates estimated market share of up to 22%, followed by an estimated 10% of the amphibious ships.
China, Japan and South Korea, Asia-Pacific region into the Navy the next two years than any other country, but India's investment in this area has grown, there may be among the top three. Singapore and Australia have specific plans to maintain the current level; Malaysia, Indonesia and Thailand will also have a stable investment.
Nugent also pointed out that the Asia-Pacific increasingly important naval tasks is a disaster for help, which, after the tsunami in Southeast Asia is particularly important. Australia, Japan, Korea and Thailand have been purchased to make the multi-function remote aircraft landing ships, for military and humanitarian mission to provide greater support.
He also noted that Singapore, Malaysia and Thailand in strengthening the naval platforms and equipment to guard against long-range weapons from the modern sea and air attacks, and to strengthen the surface combat, stealth frigate purchase such as Singapore, Indonesia buy small frigate, frigates and destroyers to add India, Malaysia to buy frigates.
rampant piracy and maritime Southeast Asian waters, weaknesses, and enable countries to enhance the Navy's ability to protect the security, the purchase of patrol boats, radar, reconnaissance aircraft and unmanned patrol unit/boat.
Nugent said, many countries in the Asia-Pacific region's economic development depends on maritime trade, the investment is to ensure the future of coastal economic development wise, even during the economic slowdown is also a worthwhile investment.