Home
»
China military
» The United States says less than the strength of China's maritime law enforcement force called Sino-US cooperation
The United States says less than the strength of China's maritime law enforcement force called Sino-US cooperation
Date:2011-09-02
Author:admin
Category:China military
Comment:0
Data Figure: China ready to ocean surveillance ship was launched 51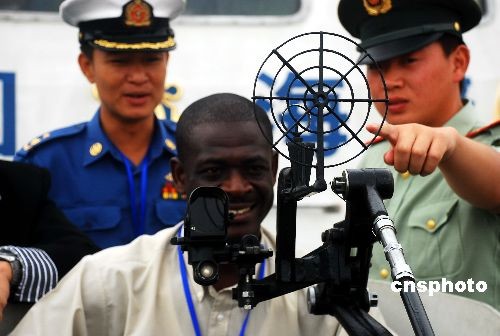 6 Wednesday morning, maritime law enforcement agencies in 18 countries, 35 officials were invited to visit the Chinese maritime police boat on the weapons and equipment
the reporter Jose
In recent years, Somali pirates have become increasingly rampant, climate change and environmental pollution caused by marine issues abound, this country have to strengthen maritime law enforcement capabilities. United States and Japan already have a common maritime law enforcement forces, and had scattered and weak enforcement of China's maritime power, is also rapidly increasing in recent years. Recently, the United States called for U.S. to strengthen Jamestown Foundation in the "Coast Guard" this level of cooperation.
the strength of the US-Japan Coast Guard over China
Jamestown Foundation, the U.S. official website on November 19 article that the rapid increase in the strength of the China National Offshore backdrop, the Chinese ability to deal with non-traditional areas is still insufficient. China's coastal management, port security, deal with typhoons, and other aspects of search and rescue capabilities are inadequate. Chinese strategists also believe that China's maritime regulatory and enforcement capacity is facing many challenges. China's maritime regulatory and enforcement capacity with China's growing maritime power than not enough. "Coast Guard Academy, Ningbo, China" experts said in a report: "China's maritime law enforcement personnel … and powerful country does not match the status and image." The report said: "China's shipping tonnage, the vast majority of marine law enforcement in 500 ton or less, and law enforcement helicopters capable of carrying the number of vessels is not enough. "
contrast, the United States and Japan already has a strong power in the Pacific, the Coast Guard efficient (Japan Coast Guard Hall). U.S. Coast Guard equipment 250 different types of aircraft, the Japan Coast Guard has about 75 aircraft, and China's maritime law enforcement authorities only have about 30 aircraft. Long-range maritime patrol aircraft is the main equipment, rescue tools are also important, the number of aircraft a direct reflection of China's maritime law enforcement forces and other Asia-Pacific power, "Coast Guard" gap.
China to strengthen maritime police force
Jamestown Foundation article points out that, at present, China has at least five maritime law enforcement forces, known as "Wulong trouble the sea. " One of China's "Coast Guard" is the official name of the Marine Police Force (Marine Police). Chinese maritime police's main task is to crack down on illegal and criminal activities at sea, are now involved in combating piracy and terrorist-related actions. Chinese marine police is the only one equipped with "regular armed vessels" of troops. According to reports, marine police force is developing a smaller "Type 218″ and larger "718 type" two anti-smuggling, including 718-type anti-smuggling displacement of 1500 tons, 100 meters long, equipped with 37 mm deck gun. In addition, China's marine police forces have also recently received two modifications to the "established grade" frigate, but this can not be improved over the patrol ship helicopters.
other major forces there under the Chinese Ministry of Maritime Affairs Bureau under the State Oceanic Administration and supervision department of the sea. Maritime Bureau which most benefits in human, has 20,000 full-time staff. China's maritime surveillance department is mainly responsible for the inspection of China's exclusive economic zones, coastal areas and regulatory environment, prevent pollution. A Chinese National Defense University in June 2009 released a report suggested that China's large coastal patrol boats and equipment can perform combat missions in the ocean, and small and medium-sized coastal patrol missions should focus on the implementation of coastal defense.
Last year, the China Marine Surveillance Department official also said that maritime surveillance team will be the Navy reserve, patrolling, maritime surveillance ships need more armed … … the sea level monitoring can not meet the needs of the present . Recently, the China Marine Surveillance departments received three large boats, which are: -46 maritime surveillance, maritime surveillance and maritime surveillance -51 -83. Since 2006, China began to strengthen maritime surveillance authorities in the East China Sea and South China Sea patrols.
U.S. invited China to safeguard maritime security
China's maritime law enforcement forces are steadily growing, given the sovereignty and marine resources disputes, regardless of whether China will be distributed maritime law enforcement into one powerful force, "Coast Guard", China's maritime law enforcement forces will become increasingly powerful. Jamestown Foundation's Web site published an article stressed that the traditional "Navy Navy" communication and cooperation, there are many restrictions, and the United States with China, "Coast Guard" of cooperation between the promising.
In addition, the deepening global environmental crisis, but also for two countries creates opportunities for cooperation. China has sent students in schools in the U.S. Coast Guard training, but also with China and several U.S. Coast Guard maritime law enforcement agencies successfully established a high-level communication channels. July 16, 2009 to Admiral Allen, head of the U.S. Coast Guard for nine delegation to visit China, the U.S. Coast Guard "surge numbers" also visited Shanghai, China this year, with China in a joint maritime search and rescue exercises. At the same time, Chinese scientists are also on board the U.S. Coast Guard Guard icebreakers, expedition to retrieve some of the data. Thus, in the western Pacific to enhance maritime security cooperation in line with the interests of the United States in the region.
link
cooperation should adhere to their own
Some analysts have pointed out that in recent years China's maritime law enforcement forces in the "hardware building" has made no small progress through the development of new patrol ships and converted retired Navy ships, China's "second maritime power" have been expanding, and equip a large number of helicopters capable of carrying patrol boats, which safeguard China's territorial sovereignty and maritime economic interests played a crucial role.
At the same time, China also focus on strengthening international cooperation in maintaining security and stability in the Asia-Pacific waters. Of course, with other countries in strengthening maritime security cooperation, China should also be emphasized autonomy, actively safeguard China's maritime rights and interests.