South Korea said the North Korean artillery targeting Seoul 350 1 days shoot 50,000 rounds
Date:2011-09-02
Author:admin
Category:International military
Comment:0
data for: the Korean People's Army 120 mm self-propelled grenade firing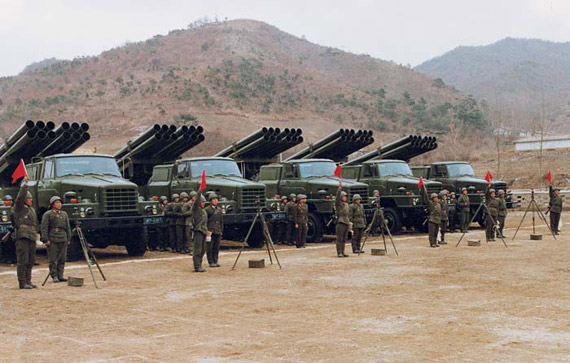 data for: Korean People's Army multi-barrel rocket launching positions
● ● Qiu Yongzheng newspaper correspondent Mang nine morning in South Korea
"North Korea is a paper tiger it?" the former U.S. Defense Intelligence Agency officials Bache Thor recently in the United States, "Foreign Policy" magazine website for their question to a detailed interpretation. He predicted that the war may come the first day, light the destructive potential of North Korean artillery will be able to Korea's political, commercial and cultural center of Seoul, fought back to the 1980s. North Korea is a population of more than 20 million of the country, but Western military experts in the eyes of this mysterious country's military was ranked the world's fourth or fifth position. If the North Korea nuclear test threat to the two Northeast Asia, Japan and even the United States test-fired missile threat, then the threat to South Korea the most remote of the Korean People's Army artillery range of 50 to 60 km artillery. A spokesman for the Korean People's Army General Staff in April this year has issued a strong warning, do not forget to Seoul, South Korea from the military demarcation line (demarcation line) is only 50 km. A Chinese military observers said, seemingly not high-tech Korean artillery is actually the biggest threat to South Korea. Fortunately, these threats is still at a theoretical and hypothetical, "Global Times" reporter recently in South Korea does not feel the atmosphere of war, just how the locals would like to make money, how to deal with the financial crisis.
Korean artillery pointed at the South Korean capital
former U.S. Defense Intelligence Agency intelligence officer Becky Thor was a retired Marine Corps officer, the Permanent Mission of South Korea was years. He retired after many visits to South Korea, North Korea has written a book about the book, is a U.S. Marine Corps Command and Staff College associate professor. When the "Global Times" reporter to interview Becky Thor, he again said: "If North Korea is a pre-emptive, then just deployed in the military demarcation line near the North Korean artillery in a day can result in 200,000 casualties in South Korea . "
U.S. military intelligence experts would not alarmist. Large circulation in South Korea, "Korea Daily" on April 20 with a large length of the article has analyzed the power of the Korean long-range artillery, said North Korea has more than 350 artillery pieces in Seoul and its surrounding target day to more than 50,000 rounds fired, In theory the whole of Seoul will be its fire coverage. If the nearest location away from the military demarcation line, fired artillery shells, many towns south of Seoul will become a target. Although South Korea's media firmly believe that once the real war, the vast majority of North Korean artillery can be destroyed within a few days, "but it is inevitable that some areas early in the war Korean artillery attacks would be to."
"Korea Times" focuses on fire to cover the Seoul-based North Korean artillery is M-1978/M1989 caliber 170 mm self-propelled artillery and M-1985/M-1991 type 240 mm caliber multi-barrel rocket launchers. United States 'global security' head of the organization ? John Parker to the "Global Times" reporter to provide a more detailed information: Korean People's Army for front-line artillery began in 1993, to 1998, the DPRK military in the demilitarized zone the central and western regions had completed the deployment of two artillery. According to him, 170-mm guns should be from the Soviet-made coastal artillery or naval guns, NATO to give it the name "Valley Hill" because of Western military institutions first time in 1978 in the Korean place called Valley Hill found that the type of artillery. 1985 military parade in Pyongyang, the type of gun for the first time in public. During the Iraq war, Iran bought from North Korea in 1987 of the type of gun. Former Air Force intelligence officer Lieutenant Colonel, a Middle East expert Frank Warren ? Kona in his book "From ally to enemy," a book said: "170-mm self-propelled guns it became the world's longest-range combat artillery, After the installation of rocket-propelled device, it's shells can hit 60 km away.-Iraq war, even Kuwait City can feel the vibration of this type of gun. "Interestingly, the U.S. military invaded Iraq in 2003 After the discovery of this gun in the street, some analysts say that this is the hands of Iran, seized from Iraq over the year, and now it is once again seized by U.S. forces, turns out to be after the catastrophe.
a second North Korean artillery attack
the Korean artillery deployed near the military demarcation line number, the reporter also heard an argument. In April this year an international seminar, a South Korean military officers revealed that, according to Sharp, commander of U.S. forces in Korea, General understanding of the situation, the Korean People's Army in the inter-Korean border areas of about 13,000 various types of guns, and are hidden in the solid trenches, South Korea and U.S. forces constituted a "serious threat." Of the Korean People's Army in the long-range artillery units and short-range missiles, and even the U.S. military did not dare to guarantee that "easy to deal with." Naval Command and Staff College Professor Bruce ? Bei Ketuo that North Korea can not ignore the strength of conventional war. South Korea's Yonhap News Agency on June 8 in the relevant reports said, "It is estimated to prevail in 2005, 1.2 million North Korean army troops, of which 70% of the deployment at the forefront of the region, that is, north and south around the military demarcation line" "Since 1990, North Korea has been continuously strengthened on the long-range artillery and short-range ballistic missile capabilities," "in the artillery to hit Seoul, 5% to 20% with the ability to launch chemical weapons if war broke out, Seoul will have hundreds of thousands of casualties. "
? John Pike told the "Global Times" reporter, even though U.S. troops from Korea in 1995 to suppress the multi-barrel rocket research, but because of the Korean peninsula's mountainous terrain limits the special surveillance equipment play, I would like multiple rocket launchers in Korea after its troops completely wiped out the first round of combat is still very difficult. He believes that Seoul by North Korean artillery round hit "back 20 years," the possibility does exist. The U.S. military think-tank experts "master" data and South Korean media and military officials said they were some differences, said John Pike ? Korean People's Army in the military demarcation line is the direction of Seoul to deploy about 500 artillery pieces, to within a minute of Seoul to launch the "nearly 10,000 artillery shells." There is also a most Xuanhu argument — U.S. specifically for the Korean War "5027 operational plan" has concluded that "without any mobilization of the Korean deployment of artillery on the military demarcation line within an hour of Seoul will be able to pour more than 500,000 shells! "
United States," Atlantic "magazine has been bringing together experts simulate artillery raid in Seoul Korea in case of loss, the result is alarming:" will result in more than 100 million casualties, including tens of thousands of U.S. troops. "There Experts believe that North Korea artillery "second strike" capability is very strong: "As the military demarcation line near the all mountain, with the Korean business artillery trenches for many years, some one hundred meters deep in the underground tunnel artillery, so after the first round of combat, U.S. troops and Jun Han to destroy the North Korean artillery is only 10% to 15%, which means that the Korean People's Army is still 85% to 90% of the gun has the ability to launch a second attack in Seoul! "According to U.S. troops now hold the intelligence, North Korea People's Army long-range artillery units have mastered a set of "playing to hide" or "playing on the exchange front" tactics, they can be fired in 75 seconds to return to complete the whole process of underground tunnels, and firing all the rockets only 44 seconds. Faster than this time targeting U.S. troops and crack down on the time required, so there may be a good aim at the U.S. military before the North Korean artillery, it has disappeared in the underground tunnels, or shift positions.
Korean People's Army have "combined"
no one wants to re-ignite war in the Korean peninsula, but the national media and military experts, or will continue this "worst speculation." In the United States Marine Corps Command and Staff College to teach Becky Torre in the "Foreign Policy" magazine website about North Korea may play a combination of boxing. Becky Bristol Korean People's Army will be "non-symmetry of power" is divided into three categories: remote artillery, short-range ballistic missile forces and special operations forces. Becky Thor said North Korea should now have 200 "labor" missiles and 600 "Scud" missiles, "enough to target every inch of land in Korea!"
the eyes of military experts in the West, reportedly have 18 million North Korean special forces even more mysterious. British sociology and modern Korea at Leeds University, Senior Fellow, Carter recently in talking about "multi-faceted nature of North Korean threat," he said, "If North Korea's defeat, it's special forces will be hidden only when South Korean troops to enter northern liberators attitude out only when the counter. " Worked in the U.S. Army "Delta" commando serving 26 years, many have been to Korea to participate in military operations ? Stan Goff, retired U.S. military officer told the "Global Times" reporter: "North Korean special forces existing 23 brigades and 18 independent operators, divided into three categories: reconnaissance, light infantry and sniper which reconnaissance forces are locked in behind enemy lines and marked an important goal of the enemy; light infantry battalion is based, or even as a unit, all-weather targets for lightning raids behind enemy lines ; sniper team places military action as a unit, they often occur in large-scale military confrontation before they penetrate into the enemy's rear side, on military bases, ports, nuclear power plants, major military and political targets launched precision strike. the impact of special warfare has two aspects: First, the effective destruction; the second is caused by psychological panic. "According to him, the Korean special forces can even penetrate the Japanese attacked the U.S. base.
South Korea to build a "ring to defend Seoul,"
response to the threat of North Korean artillery, the South Korean military set up a "big fire fight of this Part," special detection Korea the specific location of artillery, and the use of the Army, Air Force, for precision attack. According to Korea, "Asian Daily" reported on May 31, the Korea-US Combined Forces Command to improve the level of monitoring North Korea after the first use of U-2 high altitude reconnaissance aircraft, the military demarcation line in the east-west direction over the 30 km flight, the Korean side of the 40 km to 100 km region sophisticated camera, and Korea primarily to monitor communications, and perform a task to spend at least $ 1 million. South Korea, "Asian Daily" reported on June 2, said South Korean military forces under the core staff have been issued to a "semi-automatic back" indicator, that is: "If North Korea before the provocation, then, regardless of their means of ships, coastal artillery or a missile, South Korea will retaliate with all the firepower, will not be the same as in the past by North Korean troops raid subordinate commanders to their superiors asked 'not to fight back' delayed response time. "
although South Korea may be subject to the threat of North Korean artillery, but the "Global Times" reporter present feeling is that Seoul, a lot of people do not seem to have too many concerns about North Korea, do not believe South Korea will be beaten back to the 1980s. South Korea Gyeonggi Governor (equivalent to governor) Kim Moon-soo said Thursday that North Korea has the ability to rise to the dispute, but there is no ability for a protracted war, let alone win. Kim Moon-soo said that the tension between North and South Korea have maintained for over 50 years, have also been some conflicts, but South Korea is not affected, or made a surprising development, completed the industrialization. Li Zhengxun is the owner of a restaurant in Seoul, he told reporters: "When the 1980s on North-South relations more strained than they are now, then no war, and now even more will not. Besides, if war really to the strength of the Korea-US coalition forces, South Korea will win, North Korea will not be so reckless. "
Reporters asked Li Zhengxun Seoul have air-raid shelter, the answer is:" should now be gone, Seoul There are more than a dozen subway, and build it very deep, in case of war, you can use the ah when the air raid shelter. "subway ride to South Korea of ??Chinese people generally feel the depth of Beijing's subway to be over, but the ventilation is good. This "peacetime" approach, a civil defense official in Seoul also revealed their concerns, he told reporters: "Metro and other building air-raid shelter during the war to the people of Seoul to provide some protection, but we still think enough, because Seoul is not a shelter facility level, although you can avoid a nuclear and biological attack protection facilities across the country 23, but these facilities are used for operational command of the government. "
Russian political Foundation 席尼科诺夫 that North Korea's deployment of large-caliber artillery, without nuclear weapons will be able to make Seoul, South Korea and several other cities, millions of people disappear from the earth. With that in mind, not only does not attack South Korea, North Korea, but also to prevent other countries, including the United States attack on the DPRK. The rapid development of the densely populated South Korea is well aware of what it means for their war.