Home
»
China military
» Jinan Military Region, the political cadres contest platform using integrated joint operations
Jinan Military Region, the political cadres contest platform using integrated joint operations
Date:2011-09-02
Author:admin
Category:China military
Comment:0
Jinan Military Region, the scene of political cadres in the contest field. (Xinhua photo military correspondent Zhang Junlong)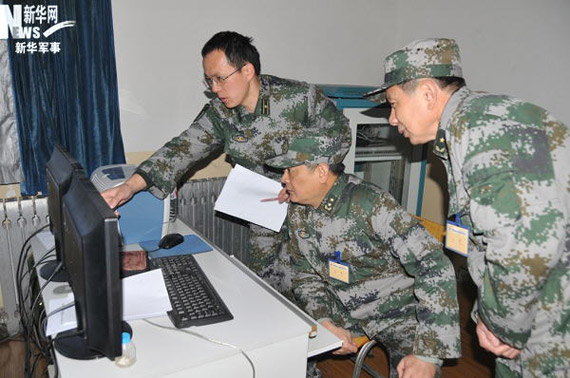 Wang Jian, director of the Political Department of Jinan Military Region, check the contest support facilities. (Xinhua military correspondent Huang Shubo photo)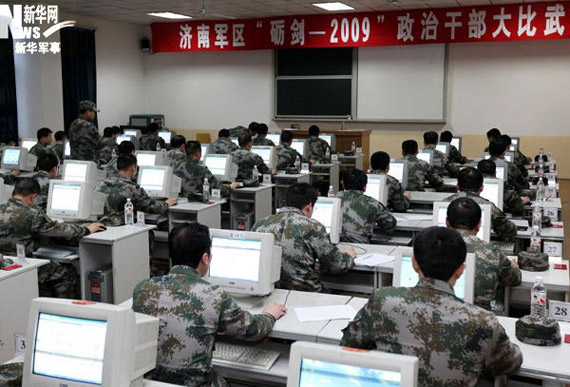 Jinan political cadres contest indoor scene (Yang Hongwu She)

excellent instructor onsite. (Yang Hongwu She)
Xinhua Jinan, December 10 (Xinhua Zhang Yuqing, Zhang Junlong), code-named "grind Sword-2009″ contest of political cadres and 10 pm in the Jinan Military Region concluded a comprehensive training base.
collection of Jinan Military Region, nearly a hundred political cadres at all levels and excellent instructors contest, the first use of an integrated platform for joint operations around the political work under conditions of information warfare capabilities, according to the tactical background set contest subjects, comprehensive examination of the political cadres meet future battlefield capability.
correspondent at the scene saw the command center field, players use an integrated joint command platforms, according to the operational planning process synchronization and political work, prepare work orders and different season of political warfare instruments. Command and control platform in the vehicle information, players use vehicle command and control systems to collect soldiers thought to reflect, organize all kinds of downloading from the network news, making reaction force dynamic voice, text, video, pictures and other promotional content, to combat political work functions to achieve the field, information technology, real-time.
After three days of competition, military discipline, Shandong Province, marked the first Commissioner of the skin, Henan Military Region Deputy Director Cao Dream, an army propaganda Zhu Yu Zhang, Deputy Director of magnitude 20 comrades being evaluated for "Jinan Military Region, job training cadres of political contest model", a coastal defense artillery battalion regiment four with two single instructor Wei, a communication station maintenance station agent instructor Wangliu Song, an artillery brigade Second Battalion Royal Six instructors will wait for 10 comrades was named "contest Jinan political instructor teaching model."
According to the Political Department of Jinan Military Region Deputy Director Major General from the good, from the beginning of 2009, Jinan Military Region at all levels of political authority in accordance with "practice that used to promote the work" principle, carried out extensive job training activities, focusing on prominent is the study of information technology knowledge, existing information technology equipment, equipment operation, relying on information technology master of online classes, office and command operations capability.
"by year's job training and contest activities, the military political cadres to improve the quality of information also emerged a number of outstanding talent, the most important is to find a constrained ability to improve the quality of political workers 'bottleneck', the next step we have to address these problems continue to strengthen the political cadres of information under the conditions of combat capability. "Liu said, from the good.