Home
»
China military
» PLA Major General: Large ships airworthiness good expensive escort
PLA Major General: Large ships airworthiness good expensive escort
Date:2011-09-01
Author:admin
Category:China military
Comment:0
Military experts Yin Cho (left) interviewed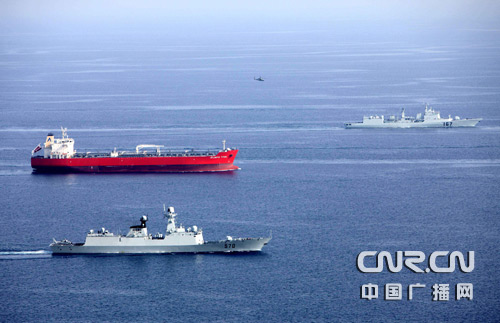 China's Navy" Shenzhen "ships and" Yellow Mountain "escort ship in the Gulf of Aden. Tang photo
Xinhua Beijing December 25 December 26 last year, Xinhua, China's first batch of the Gulf of Aden to escort naval fleet set sail. This is nearly five centuries the first time the Chinese navy sailed out of territorial waters to protect national interests. Chinese naval fleet is now sent four batches of the Gulf of Aden to escort the convoy operation of the Chinese navy mean? What we gain from the experience and lessons learned? Cho Yoon-known military expert, Major General 25 guest Xinhua, and users interact, review the Chinese navy to escort the first anniversary of the Gulf of Aden.
the pros and cons when it comes to large frigates, the Yin Cho said the biggest advantage is that large vessels seaworthiness, good means of communication is complete, you can carry helicopters, helicopter escort efficiency to be directly involved can not achieve 100 percent security, which ships with large-scale and stability on the small vessels of the helicopter pilot requirements is very high.
other large ships will be farther away from the radar to detect high, generally more than 40 kilometers or more, some even higher than 50 km. On the means of communication, satellite communication can contact my family, more complete data chain, band is more, there are better means of communication options.
drawback is high cost. Maintain a large vessel in the waters of four months is very expensive. Large ships consume much more fuel, personnel, a variety of food, fresh water consumption was also more electronic equipment is always running, always turn the radar, communications facilities open, these facilities are all components of life are spent money. Another large ship berthing port on the demanding, because the relatively deep draft, a small port also does not go through, but also to choose a relatively large port berthing rest, this is its disadvantage.
when it comes to escort the biggest gains, the Yin Cho said the most immediate gain is very effective in ensuring our security of this lifeline. According to statistics, last year until the area of ??China after the escort ship 20% of threats and attacks by pirates, we designated the escort area, and the formation of a clear declaration to enter the escort vessels, including mainland China, Hong Kong, Macao, Taiwan and other regions , and also with the regional escort, without an invasion by pirates, we guarantee 100% of their security.
the place of oil imports accounted for our entire country, more than 50% of oil imports in the logistics on this route nearly, nine billions of dollars, we escort maintained that sea logistics line of security, In this sense, is very large, stable development of the economy, the import of goods, exports, financial crisis to restore our country's economic stability is a very large significance.
In addition, this is our Navy is a major test and practical exercise, because we are pursuing an independent foreign policy of peace, we are not like other countries by war training troops. We believe this action, as you said just the same, and our joint military exercises in general are different, because after all, is the joint military exercise in the case of virtual combat, this is the real background, but once on the 8000 sea miles offshore of our entire communication, control is a test. We do this to protect was also very good.
related topics: Chinese naval escort to Somalia waters