U.S. intelligence officials said that India's new nuclear submarine trigger a regional arms race
Date:2011-09-01
Author:admin
Category:International military
Comment:0
data for: active duty Indian Navy Kilo-class conventional submarines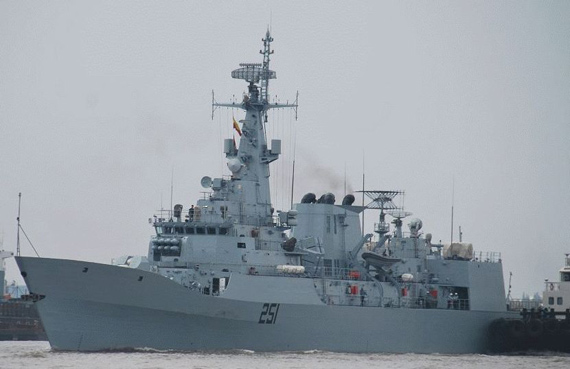 data for: Pakistan Navy has moved from China to receive the first-class missile boats F-22P frigates 251
Newspaper special correspondents in Germany Aoki
German "Der Spiegel" 16 as "anti-submarine frigates and submarines: Asian arms race for nuclear power" as the subject reported that India's first nuclear submarine into the water to accelerate the Asian submarine race.
reported that a few months later, if all systems, including nuclear reactors, including the performance of normal, the Indian Navy's submarine made a departure in the next year trials. It is expected to mainly deployed in the eastern Indian Ocean region. Indian Prime Minister Manmohan Singh's wife, Gul Shaalan ? Kaul, proudly declared that "it is enough to crush the enemy." Indo Asian News Service reported on the 16th, the Indian armed forces in 2012, cost of procuring weapons from abroad will reach $ 30 billion. Which the Indian Navy in 2015, the construction of five nuclear submarines, India and 16 conventional submarines.
American Science Information Institute of the High Representative that India's new submarine triggered an arms race in the region, "Pakistan can not produce such weapons, it will be the development of additional equipment." Pakistani military experts also believe that India's "trump card is continuing to develop weapons", "New Delhi, Pakistan and China, the two arms of competitors are stepping up, and this cooperation."
journal, said China and Pakistan, see this as a "strategic balance of strong interference." China is establishing this deep-sea port in Pakistan. It is noteworthy that China is relatively weak focus on the development of naval power, its goal is not only the United States control of the Asia Pacific area, including the Indian Ocean. Pakistan is moving from China to buy four new anti-submarine frigate, will also expand the submarine fleet size from 6 to 9. According to reports, a consortium of Kiel, Germany has received three orders for submarine spare parts.
"Global Times" copyright works without the global newspaper when written authorization is forbidden and offenders will be held liable.