Home
»
China military
» China's successful rescue of sea ice in 721 civilian icebreaker vessel (Photos)
China's successful rescue of sea ice in 721 civilian icebreaker vessel (Photos)
Date:2011-09-01
Author:admin
Category:China military
Comment:0
1 月 27 日 10 时 20 points, sea ice, No. 721 received 15 minutes before the cargo ship" paper Peak 6 "of the calls. Xinhua military correspondent Zheng Wenhao photo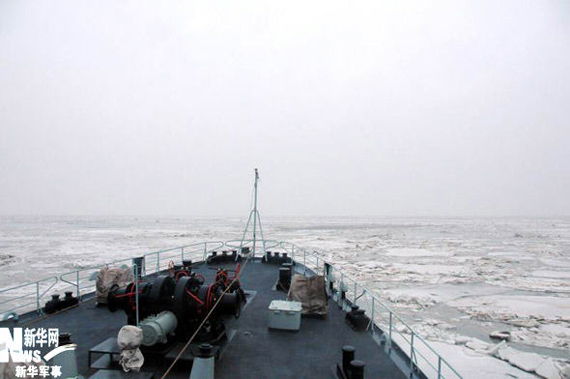 icebreaker when traveling to the Yingkou area around the ice. Xinhua military correspondent Zheng Wenhao photo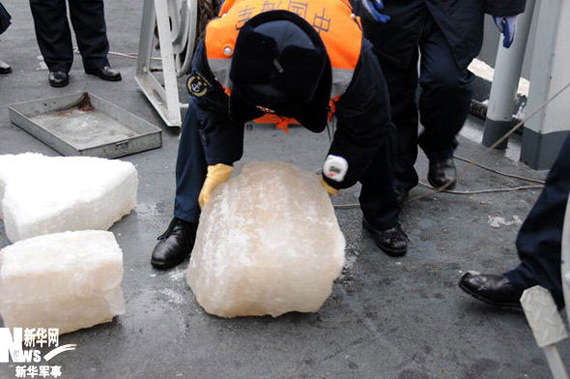 Reporters saw the thickest ice ice collected tone, thick as 38 cm. Xinhua military correspondent Zheng Wenhao photo

parked near the sea ice in the vessel. Xinhua Xinhua military correspondent Zheng Wenhao photo
Liaodong Bay, January 27 (Xinhua Zheng Wenhao) ice has been broken, a cargo ship in the sea ice out of 721 in the slow moving waterway, which marks the sea ice 721 ship transfer process in the ice for the first time performed a rescue mission a success.
27 日 上午 10 点 05 hours, ice frequency of 721 public communications uploaded to a civilian cargo ship's distress signal. Ship named "Wenfeng 6″ displacement of 3,000 tons of bulk carriers, 26 trapped in the Liaodong Bay the evening of the waters near Yingkou. Reporters observed through a telephoto lens, cargo ship have been around the ice surrounded by its own power drive has been impossible. 10:15, another one called "gold-rich Star" is a cargo ship as anchor ice frozen to the ice 721 ship for help.
the 74th transfer task sea ice to the Navy commander in the report and consent of higher authorities, will be "Wenfeng 6″ to determine the primary rescue target. Ice boat began to leave the original route 721, near the stranded ship to implement the rescue. To open a smooth path, ice 721 ship with "V" shaped route. The purpose of this approach is to channel as much as possible on the ice to crush. As the extrusion force is very large ice, sea ice close to 721 boats in the "Wenfeng 6″ has been maintained at very low speed. Reporters saw, "Wenfeng 6″ around the ice density. 721 boats in the sea ice squeezed, the original ice gradually broken, visual ice thickness reached 20 cm.
"forward 2! Right rudder!" Sea ice 721 ship's cockpit, the commander at sea, the captain, crew length, etc., to calm the command icebreaker to start rescue operations. Correspondent observed, although this is a sudden rescue, but all the staff of icebreaker operations and orderly, no panic, clearly showing that the ship perform a rescue mission at sea Cold War military operations such non-experience.
11 点 35 points, 721 boats in the sea ice sea ice trapped the ship in successfully open up a new channel. "Wenfeng 6″ in the ice slowly began to move, rescue efforts after 90 minutes after the painting a perfect end. "Thanks to the Navy rescue ship sea ice 721, I wish a safe journey home!", "Wenfeng 6″ by radio to thank my icebreaker. 11:40, "Jinfuxing" self-help success cargo ship, the sea ice 721 ship lifted the ship's relief operations.
at the end of rescue operations at sea, the sea ice 721 ship will be completed according to plan follow-up of the ice transfer tasks.