Home
»
China military
» Singapore Airshow foreign correspondent, said the company refused to be interviewed on the Chinese exhibitors
Singapore Airshow foreign correspondent, said the company refused to be interviewed on the Chinese exhibitors
Date:2011-09-01
Author:admin
Category:China military
Comment:0
Xiaolong aircraft model unveiled in Singapore Air Show. Photo: doors wide (Sina exclusive right to reproduce indicate the source)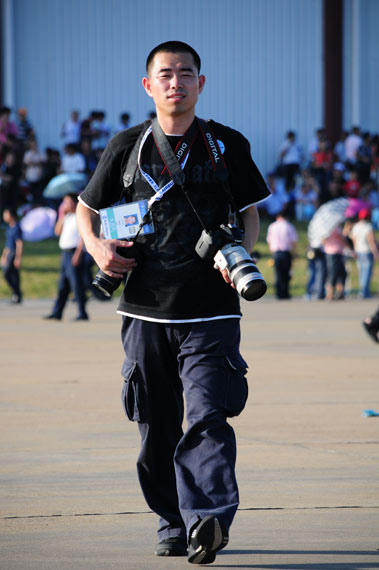 Sina air channel member of the Singapore Air Show photo coverage of the scene
Sina aviation According to foreign media outlets to adopt a military officer said the Singapore air show in this China participating companies have a phenomenon that only received the intention of customers or foreign officials, but does not accept the foreign media. Chinese companies are not exhibiting the specific reasons for the interview is still unknown.
China's foreign propaganda participating companies obviously not as good as Korean companies. Korea's first year to participate in international exhibitions, it is careful not want to promote themselves, here on the one hand there is reason for concern spying enemy, on the one hand but also do not understand the outreach process. But in recent years through the study of South Korean military, soon to strengthen the domestic defense industry propaganda, while participating in an international arms exhibition, the pavilion is also growing.
in last year's Dubai Airshow, South Korea and even sent a team of beautiful models considerable publicity teams and to attract foreign customers to visit South Korea Pavilion. This year's Singapore Airshow, South Korea Pavilion staff is relatively warm, come to consult a professional audience and the media who will release some small gifts. Weapons from South Korea into the year's sales growth year after year shows, good self-promotion is not a wasted effort.
foreign media correspondents that this refusal is not feasible, interviews with news media, on one hand, you can tap the other hand, being interviewed is a propaganda factory. Foreign correspondent, said China would like to know more about the next information Xiaolong fighters, because although China Xiaolong fighter has been successfully exported, but there are still many people do not know, hope the interview to better advertise Xiaolong fighters.
fact, whether it is only refuse individual media, or to refuse all media interview requests, the secrecy, the Chinese exhibiting companies such measures is understandable. Only approach may be a bit extreme. For some less important information can still be proper external advertising. After all, although we have a good product, but do not pay attention to the brand do not break out information to let more people know, so even if there is a good product can only know.
Related Topics: 2010 Singapore Airshow