Indian media that Pakistan fired 2 rockets at the Indian territory (Figure)
Date:2011-09-01
Author:admin
Category:International military
Comment:0
India Border officers look at the explosion site.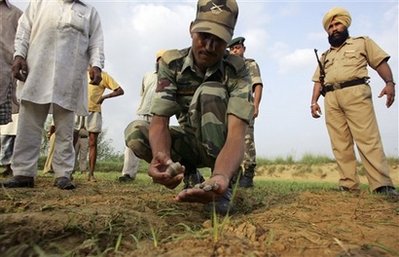 An Indian soldier look at the scene of the explosion.
Xinhua, Beijing, September 12 – Comprehensive Xinhua News Agency correspondent in Bombay and Islamabad reports: According to the Press Trust of India on the 12th, the Pakistani army in India to launch 11 rockets. But the Pakistani military denied this.
report quoted the Indian Border Security Force Inspector General Hima Singh as saying that the Pakistani army to the evening of 11 two Indian villages in the border areas of Punjab fired two rockets. Rockets fall on the last open farmland.
Hima Singh said India's Border Security Force had returned fire with machine guns. He stressed that this is the first time in recent years, the Indian border security forces fire on Pakistan to fight back.
According to Pakistani media on the 12th, Pakistan's military denied that India and India on Pakistani territory to launch rockets accusations, saying the claims "baseless."
Pakistani military said, the evening of 11 local time, the villagers heard the Pakistani border village in India heard a huge explosion, but can not determine the cause of the explosion and the explosion type. Explosion caused panic in the border area, now India and Pakistan are on the bombing investigation.