Russian woman girl military training agents to learn subjects including demolition gun dance
Date:2011-09-01
Author:admin
Category:International military
Comment:0
young little girls have learned how to break down and assemble AK-47. Source: Information Times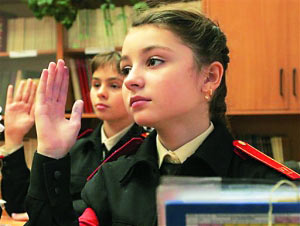 Girls agents trained Source: Information Times

foreign language, ballet, school fencing, Moscow Academy of female ninth woman described as "all female." Source: Information Times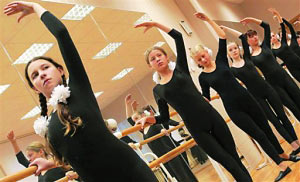 female to learn ballet Source: Information Times
foreign girls' boarding school classes have a strong woman, but also catch a rich husband to teach the intensive courses, but teach how to kill probably rare. According to British media reported on November 2, in Moscow, so it is a woman officer school, specializing in teaching little girls how to use AK-47. The 10-year-old little girl did not speak out at home to play hide and seek, but a little old school martial arts aspire to when the agent when the generals.
learn much demolished the whole shooting sword dance to learn to cook
in the "Ninth Moscow girls' boarding military school", the small NASDAQ雅格莱齐妮 Bokova in today's first lesson is learning how to break down an AK-47 rifle. In another classroom downstairs, a whole class or ponytail braids tied the 11-year-old girl, is practicing how to use grenades. Another group of similar age girl wearing a dark blue uniform-style uniforms, tied with red epaulettes, are learning to goose step away.
Russian Academy dates back to 1732, to the Putin era, military boys resurrection, then, military girls also revived. This military school for girls is one of Russia's newly established military academy. Since last year the Russian grid conflict, Russian Prime Minister Vladimir Putin hope that through the military academy, training more armed "model citizens." Although this is the name of the officer girls boarding military school in Moscow ninth woman, but in fact, this is the first female Russian officer school. Most of the school's students are from poor families. These baby girls are still carefully selected and tested before selecting them as future leaders and culture, they also have to learn first aid, self-defense and how to deal with terrorists. Their daily program is very tight, six days a week classes, in addition to a culture of learning programs, children also learn sewing, cooking, singing, dancing, painting, fencing.
training school at the same time adhering to the "loyal, lovely wife and mother," the purpose. The school principal said the school's self-defense course is to train girls to protect themselves: "For example, to prevent as in 2004 as the Beslan tragedy."
rules non alcoholic drinks and tobacco ring skirt makeup
Na Siya was 11 years old, his father is the police, she stood up she was no better than the AK-47 rifle much higher, but she says proudly: "I just learned how to disassemble and assemble my rifle and it is heavy and I need to grow thicker arms, more muscle in order to use it I need to use two fingers to pulled the trigger. "
very strict rules here. Na Siya example: "The school could not see the skirt, not smoking, drinking, can not act alone." British reporter then looked Na Siya aimed at lifting a Makarov pistol, Na Siya were small but great ambition: "I grew up to become a customs officer, I have to chase criminals." Every day, the girls have classes from 7 pm, the first thing they do morning exercises, a full day of training to iron Ping uniforms for the end. Na Siya also mentioned some of the Russian World War II veterans to visit them often recently: "They were very interested in what we learned, I heard that they had to remember I heard, whether it is children, women or the elderly, the Germans were do not be soft on anyone, but I do not want that history will repeat itself. "
school can not make provisions, in addition to a fixed time every day with the family on the phone a few minutes, the phone can not. There is no doubt that these dolls with the family members tell the story of the school is certainly not pink fairy tale. Na Siya said proudly: "I will tell my parents that I learned to use what kind of gun." Russian winter ball every year the girls a rare opportunity to touch the opposite sex, the girls dressed up in party Moscow on the seventh and nearby school students dancing male officers. 16-year-old 奥约娜丘奇 Jolie speaks five languages, has only recently because the AK-47 used to participate in the game to get the gold medal and was promoted to corporal, she explained: "Only in winter ball like such a big occasion, the girls allowed to make-up, but this occasion is not a few times a year. "
volunteer big" to prevent World War III "
12-year-old Austrian嘉奥弗特斯 Petrova in the strict military school trained a typical representative of the younger generation, she said firmly: "I like guns and I hope to join the future of intelligence agencies. I like the feeling of holding a machine gun I and all the people here, they want to contribute to my country. "
Aojia is talking:" At home, I saw 11-year-old girls make-up, wearing fishnet stockings, which What is necessary? in so many things to learn when and why the boy should be disturbed? we have seen the boys in military school, courage, decency, they would not like an ordinary school boy pulling the girl's braids as, They respect the uniform of the girls. "Stowe was born in Ukraine 卡塔亚阿利 Popovich was 11 years old, her voluntary greater:" I want to do, General, I am ready to sacrifice for the country. "
has been criticized from the reality that military education has no future. But 17-year-old Anastasia 娅库特斯科 Abramovich would argue that: "Compared with other girls, I have more freedom to schools to teach our honor and integrity."
11-year-old Sasha Zu Lina and, like many students come from military families, young age, she has been on war and peace have their own understanding: "We trained, we are ready to battle on the war is terrible, it makes loss of life, but we need to prevent World War III happen. "According to Information Times