Saudi Air Force F-15 and the wind sent fighters across the border bombing Yemen (Photos)
Date:2011-09-01
Author:admin
Category:International military
Comment:0
Saudi Air Force Tornado fighter-bombers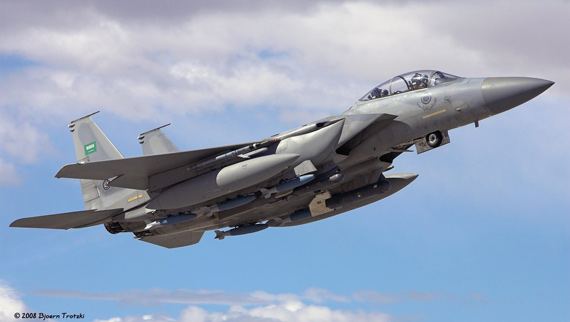 Saudi air force's F-15E fighter-bombers
Li Xue Global Times special correspondent reports, according to Microsoft, the U.S. National Broadcasting Company reported on November 5, Saudi Arabia, Yemen's neighbor and riots raging extremists grave concern, for fear of its impact to their internal security situation in Yemen, a Saudi soldier was killed by the rebels, after Saudi Arabia to send Air Force planes, cross-border region of northern Yemen rebel attack, a neighbor to help suppress the increasingly powerful Shia send rebellion. Analysts said Saudi Arabia and Iran would just another proxy war.
air strikes on rebel cause blow
a senior adviser to the Saudi government confirmed that the Saudi border with Yemen is to take large-scale military action, they may have further to send more troops there. He said: "This is an ongoing action, aimed at ending the problem of our borders, the Saudi military cooperation with the Yemeni army." But in Yemen, the Saudi defense minister denied the claim action in Yemen.
in the past few months, the rebels in northern Yemen Hawth constantly clashed with government forces in Yemen. They claim that their needs were neglected by the Government of Yemen, the government is working with Shia as heretics as the hard-line Sunni alliance. They also said the Saudi air strikes hit their northern stronghold of the five locations, a lot of casualties, some homes were destroyed. Hawth spokesman Mohammed – Salam said: "Saudi fighters throwing bombs to crowded place, including a market, despite their stated goals is to us, but as the killing of civilians as the government." Before the raid, Saudi Arabia has to launch hundreds of shells border areas, there is no information on casualties.
two Saudi diplomats said that Saudi Arabia "wind" and F-15 fighter planes bombed targets in Yemen, causing heavy casualties to the rebels. More Army and Special Forces will be moved to the north of Yemen, Saudi Arabia and Yemen border several towns evacuated in advance.
Saudi another Iranian proxy war
Yemen weak central government unable to control outside the capital region, is now working with the northern and southern rebels separatist fighting. More disturbing is from the "base" organization of the threat. United States worried that the conflict could spread to Yemen, Saudi Arabia, Yemen, also worried about a "base" of the second heaven.
the attack immediately rise to great concern, Iran and Saudi Arabia is considered a proxy war between the other. Shiite Iran is considered to support the insurgency in northern Yemen, and Iran, Sunni Saudi Arabia is the biggest rival in the Middle East, they are an important ally of the government of Yemen. London think-tank International Crisis Group Middle East deputy program director Yost – Hill Te Manen said the Yemeni government publicly accused Iran of providing weapons for the rebels, but there is no conclusive evidence to support this claim. He believes that Iran might like to see this scene, but can not say that they supported the rebellion in Yemen. Director of the Washington Institute for Near East Policy Simon – Henderson also believes that there is no conclusive evidence that Iran aided the rebellion in Yemen, Saudi Arabia can only be seen as a proxy war with Iran.