Home
»
China military
» Air chief architect of your female model engine development led to focus
Air chief architect of your female model engine development led to focus
Date:2011-09-01
Author:admin
Category:China military
Comment:0
Huang Weina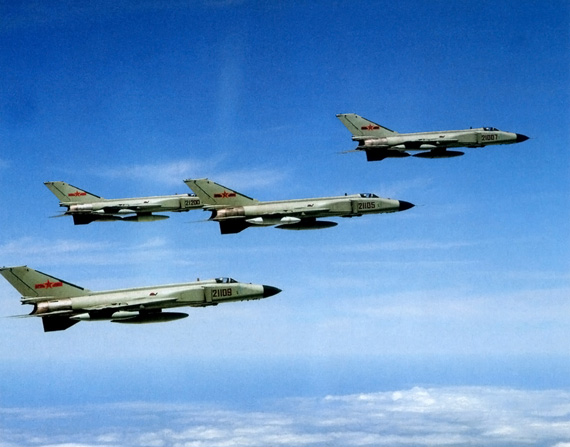 Data Figure: China Air Force F-8 fighter squadron training
Huang Weina is the Guizhou Aviation Industry and Chairman of the Institute of aero-engine designer. 2010 in the aircraft industry summit, Huang Weina elected in the aircraft industry in 2009 Top Ten "Person of the Year."
2009 year, Guizhou Aviation Engine Research Institute received a 60th anniversary parade of the technical support mission to ensure aircraft engines in training by reading and by reading the flight safety and reliability to complete the task, Huang Weina on the one hand led on-site technical services group in depth by the reading unit, collect the engine field use comments to by the reading unit pilots and ground staff of engine technology parameters and Use; one serious organization within the technical support group to improve rear support, coordination of front and rear two teams to ensure technical support work by the reading unit timely, accurate and effective.
2009 year, Huang Weina as the aircraft industry, "studying aeronautical engineering technicians went to Britain project" the first overseas trainer, went to England in the second study Kleinfeld University graduate degree after returning to school, pick The president and chief designer from the burden. Took office, she made adherence to the "open draw, hundred streams, the Department of rivers, learn from each other, truth-seeking, innovation, and development, image building and serve the motherland," the development of ideas, called on all the cadres and workers to constantly "upgrade technological capabilities, promote innovation spirit, to develop an international perspective, to express patriotism, "will be built in China's Guizhou Institute of aero-engine medium-lift aircraft engine R & D center for the country and make new contributions to the development of aviation engines. In 2009, the Institute achieve a "two-machine identification, the two first flight, two machine authentication, the two machines pre-research" goals.
from design, competent designer to designer, the president and chief designer, Huang Weina step by step way, the burden is heavy every time. The face of national stereotypes key model engine design technology crucial, the reliability of turbojet engine series number of the research, development and design of the new engine in the aircraft industry with the factory engine company Liyang batch delivery and other tasks, Huang Weina clue to overcome the work more progress demand a radical, and complex technical difficulties, and led her team once again accomplished series of turbojet engine modifications to improve and develop new engine design task. She has been awarded the Guizhou Aviation Industry Group "model worker", Guizhou Province, "May Day" Labor Medal, the National Women's Federation, the 55th anniversary of the aviation industry to create "Aviation Award for Outstanding Contribution to serve the country", the aircraft industry advanced technical support for the National Day parade individual prize and many other honors.
Huang Weina will get the results due to social and China's aviation industry development and rise. She said: "Pearl as the aviation industry, aircraft engine is an extremely complex systems engineering, which reflects the country's industrial level, currently the world's aviation development engine can really few countries is engaged in aircraft engine research and development of their own pride, is exhausted to pursue the cause of his life. "industry-wide study in 2009, Miss Grand deeds activities, she led the first batch of the aircraft industry from the British Kleinfeld University students returned to the group of scholars solemn statement: "must not disgrace the mission entrusted by the times and industry, durability of loneliness, courage and dedication to Mr. Wu's life have learned to build with the same personal and business real perpetual 'China Heart'。"