Home
»
China military
» Party newspaper article asked the United States on China's aircraft carrier also wants to explain this (Figure)
Party newspaper article asked the United States on China's aircraft carrier also wants to explain this (Figure)
Date:2011-08-29
Author:admin
Category:China military
Comment:0
8 14, China's first aircraft carrier platform 10 o'clock the morning test the waters back from the sea, Dalian, stop the original pier, the Navy, "88″ ships were subsequently returned to Hong Kong. At this point, I test carrier platform for the first time sailing a successful conclusion. Source: CFP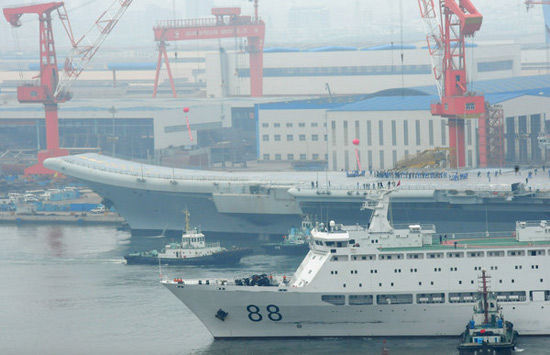 88 ship completed sea trials and carrier return Dalian
Wen Xian
on August 10 the U.S. State Department regular news briefing, Chinese aircraft carrier has become a major topic. Q in a dozen rounds, the U.S. State Department spokesman shortly after taking office, Ms. Newland inadequacy. Huafeng maneuvers, the spokesman was read all the documents only because of the logical confusion and inadvertently once again highlighted the deep-seated paranoia.
Newland this massive Q There are three key words.
first as a "concern." Topic is because of China's aircraft carrier platform August 10 sailing trials for the sky. Newland up say, the U.S. aircraft carrier has expressed concern about China's development, "this is only the United States that China does not seem in a wider range of concerns in other countries as part of transparency."
Newland in the United States expressed "concern" at the same time, did not mention China's concerns, which will be caught biased. China has 18,000 km long coastline. The history of the Chinese poor and weak, in the West before the stricken ship and armament humiliation. Not long ago, the U.S. aircraft carrier still in China's doorstep swagger. China's national security, territorial sovereignty and maritime rights and interests can not the Chinese armed forces of great concern. Prior to this, the five UN permanent members, only China has no aircraft carriers. The number of U.S. aircraft carrier accounted for more than half of the total number of global carriers. China is developing aircraft carrier this question in the proper context, just a start, it "is concerned", is not it a little too overbearing? ! No wonder Newland time, "concern" on the spot has been cross-examination: In the past decade, U.S. military spending grew faster than China. U.S. Department of Defense budget of more than $ 600 billion. In the United States still have such a powerful advantage in the case, why the U.S. policy of Chinese equipment, defense spending so concerned about?
followed by "transparent." Newland taken the trouble to say publicly that the United States has been in power projection and other aspects of China's lack of transparency, adding that China than the United States in these areas transparent. America needs to see more transparency. In this issue, Ms. Newland old tune, it is some sweeping flavor. In recent years, China's defense white paper in the form of the system described the security situation, defense policy, the PLA's modernization, the use of armed forces and defense mobilization and reserve forces, the military legal system, defense industry, defense spending, the establishment of military mutual trust, arms control and disarmament, etc. The approach has been generally well received. Canadian Embassy defense attache Mark had said this, "In my opinion there is no doubt that China is working to increase military transparency level." Chinese Defense Ministry spokesman announced on July 27, the first aircraft carrier information, China announced carrier information so frankly, is to enhance military power between the Pacific powers transparent positive step. Newland has been Reporter old tune again taunt: Is China's aircraft carrier is invisible or tiny it? You know it's there, have any transparent opaque at all? Conversely, when the U.S. aircraft carrier cruising in coastal waters of China, the U.S. high-altitude reconnaissance aircraft often fly at or near the coast of China when it was very "transparent" to inform the Chinese side of it?
again is "interpretation." Newland said the U.S. side welcomes China's aircraft carrier the equipment you need any explanation. And then hope that the Chinese side on the carrier to make a formal explanation. Chinese spokesman pointed out long ago, China's use of a conversion of waste carrier platform for research and training. Chinese research aircraft carrier development is to increase national security and maintaining peace. China adheres to peaceful development. China's defense policy will not change China's coastal defense strategy has not changed. Put it so real, what the United States still want to be "official interpretation"? Newland's request correspondents on the spot once again been refuted: the Chinese say, "because we need the aircraft carrier," Is not this already a very good explanation of it?
In fact, it touches needed to explain the U.S. State Department spokesman, in all of these being irreverent behind the words, in the end how glowing antiquated mindset.
(author of the North American Center for the newspaper bureau chief correspondent)
(edit: SN049)