Home
»
China military
» F-8F North Sea Fleet off-site training on the implementation of a variety of weapons to attack the reefs
F-8F North Sea Fleet off-site training on the implementation of a variety of weapons to attack the reefs
Date:2011-09-01
Author:admin
Category:China military
Comment:0
fighter aircraft launched gun.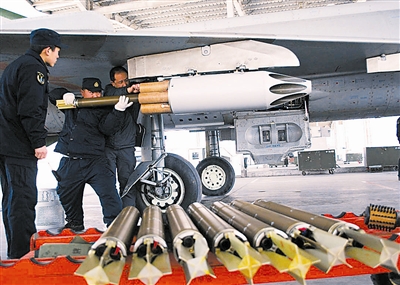 loading rockets.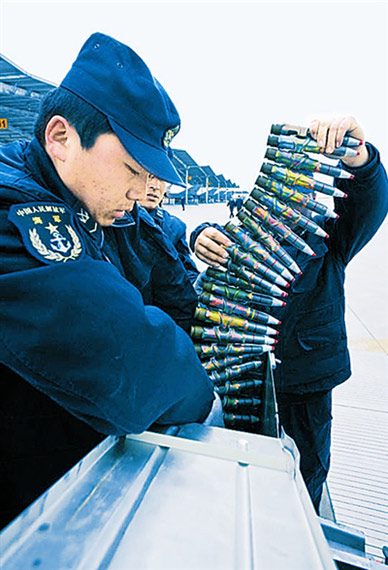 loading cannon shells.
map/text Yuan Li Bin in the light newspaper correspondent Wang Songqi
blue sky, such as washing, sea breeze fluttering, explosions one after another. A high-altitude aircraft like the eagle from the dive spot, one fighter said flames from the jet out of the abdomen, one target in the smoke of burning … …
Recently, the North Sea Fleet Air Force carried out a new multi-division functional fighter in full-function under complex conditions, all elements, all weapons training courses. This time, the new multi-functional fighter for the first time a continuous-fire cannon, bombs, rockets and other weapons, the implementation of integrated combat, bombing and many other places on the reefs training courses so that troops on the ground and near-shore and on ability to obtain comprehensive attack maritime targets across the board.
equipment of the division in the new multi-function fighter-bombers on the 60th anniversary parade debut. To fully exploit the new multi-purpose attack aircraft, the division earlier this year established a "single set to change subjects, using a single weapon status, to increase the proportion of subjects the actual use of weapons, training issues to achieve normalization" of the idea of ??training, pay close attention full-function, all elements of training.
difficult for live-fire training, the characteristics of high risk factor, the division held a tactical research and the ready-to-ground weapons firing will be on flight day arrangements, participating in the training force, the use of weapons, etc. refinement. In the strict organization, the training to achieve the desired effect.
the smoke has not cleared the training ground, the division of Liu Weimin, proudly told reporters: "Three on-board integrated live-firing weapons, according to actual requirements is my teacher training methods and innovative group a successful practice, marking a new multi-functional fighter aircraft are fully integrated combat capability to improve. "