Home
»
China military
» Japan said that China's fleet 10 vessels in waters near Okinawa appearance (Figure)
Japan said that China's fleet 10 vessels in waters near Okinawa appearance (Figure)
Date:2011-09-01
Author:admin
Category:China military
Comment:0
Okinawa, Japan Location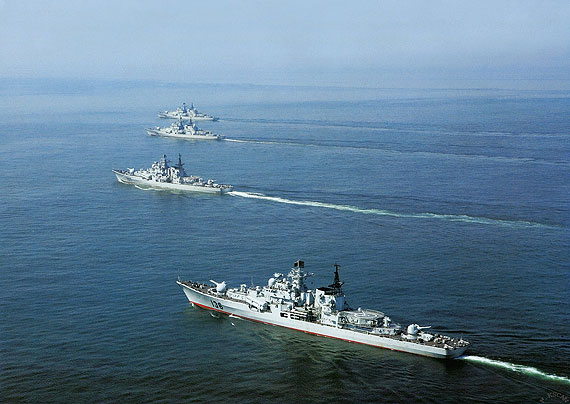 Data Figure: China's Navy fleet of modern destroyers

Data Figure: China's Navy fitted out in the Russian-made Kilo-class submarines
World Wide Web on April 13 reported that, according to Japan Ministry of Defense Web site on April 13 reported that the Japanese Defense Minister Kitazawa held at 13 am a press conference after the cabinet meeting, said Jan. 10 in Okinawa and Miyako islands are found in the south seas China's fleet (including two submarines, including a total of 10).
submarine navigation in state waters, Japanese Defense Minister said that "although the high seas, but this has never happened before the events we have to conduct a detailed analysis of whether the intention for our country, including a variety of may, after careful investigation and analysis to discuss. " Self-Defense Forces chief of staff under the supervision integration data of the Ministry, the Chinese fleet in the East China Sea on September 7 after the training has been held at the naval vessels being monitored, 10 in the evening around 8 pm southwest of Okinawa Island, about 140 km on the high seas . Fleet includes two Kilo-class submarines, two modern class missile destroyers, three frigates and other 10 ships. 13 morning, the fleet in the Pacific, heading south point red island sailing.
monitor screen according to the Ministry of information systems, the emergence of China Sea Fleet, also found last month that contains 18 guided missile destroyers, including the six ships, the Chinese navy's activities are increasingly active.
According to Japan's "Sankei Shimbun" reported that analysis of the PLA's official newspaper has announced that the Chinese navy, "the East China Sea Fleet" will be in the East China Sea a large-scale joint military training. Japan's defense ministry in the 7 to 9 observed in central China's armed forces in the East China Sea waters a ship-based helicopter flight training. Meanwhile, the Chinese Navy through Okinawa and Miyako Island, between the high seas after the 11 day and night in the waters south of Okinawa, a replenishment at sea.