Home
»
China military
» Chongqing former top secret nuclear military giant hole open for tourist visits (Photos)
Chongqing former top secret nuclear military giant hole open for tourist visits (Photos)
Date:2011-09-01
Author:admin
Category:China military
Comment:0
816 nuclear military nearly 20 holes before the hole, now only survives this one, the rest have been closed.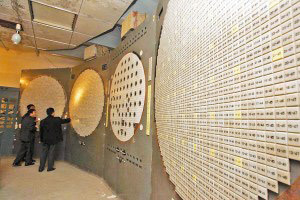 then install the main control room where all the old computers.
(Reporter Chang Yu) With 8 years ago, decrypt, hide the gold in the mountains in Fuling, a nuclear military giant hole opened 40 years of dusty memories, to the world as Asia's first man tells the legend of the giant hole .
Currently, more than 60,000 this year by the giant hole cut out of the tourism development will be to build the giant hole then sounded the assembly number of veterans, inviting them to re-visit that has been classified as top secret military confidential military giant hole.
tens of thousands of people participate in the construction
816 military cave in the streets of Fuling District, Bai Tao (formerly baitaozhen). Cave total construction area of ??104,000 square meters, built inside a large hole 18. February 1984, with the changing international situation and national economic strategy adjustment, 816 works are halted.
hole body plant hole about 400 meters depth, the top layer of the thick cover 200 meters, the core parts of the plant cover thickness are 150 meters or more. It is understood that 816 projects in Asia and the world's largest artificial cave, tens of thousands of engineering officers and men participated in the Battle of the construction.
2002 年 4 8, 816 National Defense agreed to decrypt the military cave.
giant hole opened this month
Fuling District Tourism Bureau Director Li introduced as a former nuclear plant entity, "816″ to the tourism product form open to the public, is unique in the world.
for the construction of tens of thousands of veterans who participated in the Fuling District, the tourism sector as they sounded the assembly number: By 23 to 25 this month, Chongqing, China Domestic Travel Fair 2010, the opportunity (closing held in Fuling), scattered throughout the country to invite the three-line construction veterans return to Fuling, look past the construction site was extremely hot, red recall the years. China's nuclear military mysterious giant hole 816 tourism projects, will travel during the fair officially opened to the public.