French Army to purchase new rifles have the opportunity to be selected Chinese products
Date:2011-09-01
Author:admin
Category:International military
Comment:0
French fleet of Fama Si no care assault rifle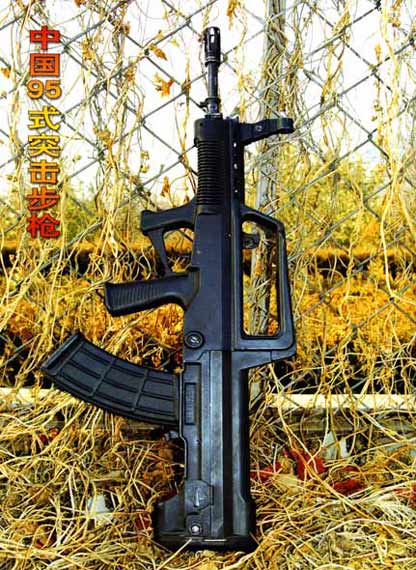 made 95-type assault rifle
LONDON Dec. 3 news: According to the U.S. Global Strategic Network 2 reported that the French Army intends to purchase a new assault rifle . The U.S. Special Operations Command with "Special Forces Combat Assault Rifle" (SCAR) is the acclaimed German G36 rifle based on the design. French rifle in the procurement project, this rifle is one of the options in France. Reported that the reason for unexpected purchases from abroad, the French rifle, is entirely subject to the impact of the aftermath of the Cold War. After the Cold War, many defense companies out of business, including some of the French armed forces for the production of weapons and ammunition companies. The report also said that China also has a new rifle without care for the French army, the use of Chinese weapons would be a "diplomatic points" move.
Before 1991, the French military-industrial complex enough for Famas assault rifle and ammunition needed for the production of special (need high-quality forged steel). The 1970s, non-care-type (bullpup) design rifle (that is, after the clip in the trigger grip) come out. The appearance of this rifle with the other 5.56 mm rifle is no different, but some of the unique design makes it impossible to apply NATO standard ammunition. Report said that the early 1960s, France Zengyin their own interests out of the NATO. Although this period has been as a member of an informal liaison with the organization, but did not join NATO-standard items – through the NATO-standard items can be closer links between NATO member countries to share ammunition and supplies.
reported that the 1990s, the French based on NATO standards (at least in the use of ammunition) designed a Famas rifle. However, Famas G2 rifle production is low, and only equipped with the French Navy, this is because this type of gun manufacturer went bankrupt. To make matters worse, for the first Famas F1 manufacturing companies are also required to close the special magazine to play guitar. The problem is, for the manufacture of rifle parts or new rifle producers, Famas F1 of the market is too small. Moreover, despite the Famas G2 is a good weapon models, but it is more powerful than a rifle or cheaper everywhere. Therefore, France has apparently decided to Famas assault rifle designed shelf, the use of a more standard 5.56 mm assault rifle design.
not care if you insist on design, the French can purchase existing Israeli Tavor assault rifle. Although the French anti-Semitism, the Arab sentiment, but may not play a useful role. And China also has a new rifle without care for the French army, the use of Chinese weapons would be a "diplomatic points" move. . In any case, France in this regard a considerable number of options, but also in the process, they will also seek to halve the cost of their firearms. (Compiled: Spring)