India also buy weapons from abroad, but there is a huge difference in real terms
Date:2011-09-01
Author:admin
Category:International military
Comment:0
China imported Soviet-made fighters soon realized, and to promote local military capabilities significantly.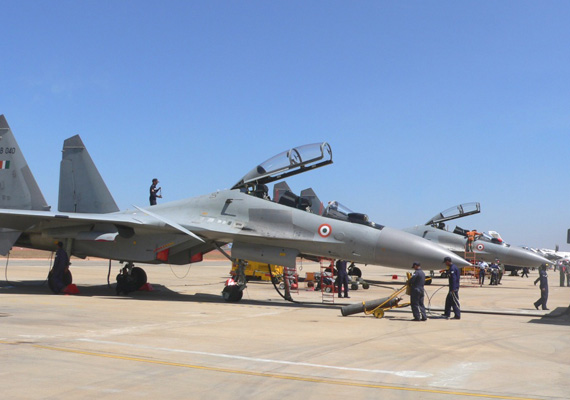 Indian Air Force Su-30MKI fighters latest crash from time to time and other accidents.
newspaper freelance writer dialect
early November this year, India's Minister of State for defense, led a large delegation to visit 帕拉姆拉詹 Belarus, the two sides started cooperation on defense in depth. In earlier times, India has a number of military units and Belarus signed a defense purchase large orders. This series of moves caused the attention of international military observers. In late November, Russia's "Airport" and India "India Defence Online" site has carried an article analyzing, India suddenly keen to carry out military and technological exchanges with Belarus, a hidden purpose is to dig defense cooperation between China and Belarus "corner."
defense cooperation with India and the white heat up fast
According to reports, India in October-November and Belarus signed a total of $ 300 million in military procurement contracts , including upgrading the Indian Army BMP-2 infantry fighting vehicles, T-72M1 and T-90S tank fire control system, the "Wasp"-AK anti-aircraft missile fire control radar and replaced with new computers, upgrade "Kilo" class submarine command system and sonar, improvement and maintenance of Su-30MKI combat aircraft. In addition, India's Defense Research and Development Organization (DRDO) and the Belarus National Academy of Sciences has signed a $ 2.6 million contract and invited the latter to help enhance the DRDO's basic research capabilities.
Belarus was the Soviet Union's most important military precision instruments and development base, radar, optical equipment, heavy-duty vehicles and aviation equipment, and so has a strong strength. More than 10 years after the disintegration of the Soviet Union, the Belarusian military advantage by the Russian manufacturers cover only a handful of countries such as China discovered its value, and maintain close defense cooperation. As for India, but also from 2007, only paying attention to the defense exchanges with Belarus, where there used to contain Russia, Belarus manufacturers of military-industrial mean. Although the Indian military cooperation White started late, but the development speed is amazing, just more than two years, bilateral trade volume of more than hundreds of millions of military dollars, Indian trade with Russia to a certain impact.
external analysis, India's rapidly strengthening defense cooperation with Belarus, the intention is to get rid of one of Russia's over-reliance, reduce the "eggs in one basket" risk.
expensive purchases do not have the intention?
white outside India defense cooperation in the observation of a detail also found that the Indian military units in more desirable Belarus is China's old partner, for example, "tuning fork" design bureau, "position" design 558 Aviation Authority and repair factory. Moreover, India's procurement list and the number of cooperative projects with China, similar, and generally offer 15% higher than in China to 20%.
Canada, "Chinese Defense Review," has analyzed that Belarus "tuning fork" Design Bureau is one of the few submarine acoustic product development unit, the Bureau developed a "tuning fork" system is not only to identify the acoustic performance reliable, and in the reflected signal analysis and processing of sound has a strong ability to identify, in a number of interfering signals quickly identified the enemy position. Served as the Director of the Design Bureau sales, said Vladimir Chernivtsi, the application "tuning fork" system of submarine can reduce the false alarm rate of 50%, easy to start "pre-emptive" attacks. For a long time, "tuning fork" design bureau with China to maintain a positive relationship, China to the Russian Navy ordered eight "Kilo" class submarine, there is no genuine product and equipment Russia, Belarus, instead use the "tuning fork" system, which shows The performance of the good. This time to the Design Bureau in India under a single, again to upgrade the existing fleet of "Kilo" class submarines, the Chinese seem to move by the stimulation.
According to "Indian Defense Online" Web site reported, India has also to Belarus' position, "Design Bureau ordered a large number 1K13-type passive night vision sights, for the improvement of active T-72M1 and T-90S tanks night performance. This move also has "imitation China" too, because the "position" Design Bureau in India many years ago also had to sell off 1K13-type sight, but the Indian side blindly looking for Russian business, did not accept the proposal of Belarus. But rather to introduce the product and the first Chinese to be domestic, so a large number of older tanks have a strong night fighting capabilities, which will undoubtedly surprise to the Indian army.
Some experts believe that India's high time the procurement of military goods from Belarus, "clearly ill", because Belarus is far from Russia's military capacity as big as a large number of precision instruments of production will take a long time, Belarus can not simultaneously to cope with too many customers, which are likely to have military cooperation in a negative impact on white.
little dependence on the Chinese military's foreign
But some analysts said, although from the appearance point of view, China and India to buy weapons from abroad and the introduction of technology However, there is a huge difference in substance between the two countries. China has a complete range of military systems and strong research capabilities, the PLA can be independently developed the vast majority of equipment needed in the field of foreign military dependence is not significant. China to Russia, Belarus, Ukraine and other countries targeted for specific areas of technology vendors, but for the military modernization "Tim the wood."
India does not have as China's military system, except for a small technology simple weapons, the vast majority of main equipment are imported, and its military autonomy is not much stronger than the old enemy Pakistan. British military commentator Mubarak Lauderdale this assessment, saying: "When China has independently developed the third generation fighter aircraft and tanks mass troops when India has developed for how to solve the 30-year-old LCA fighter and 'Arjun' tank the many body problem of hard thinking. "