Inventory global Trainer: Indian HJT-36 prototype was crashed
Date:2011-09-01
Author:admin
Category:International military
Comment:0
India Domestic HJT-36 trainer aircraft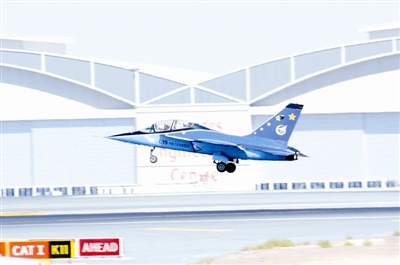 Chinese L-15 advanced trainer
new generation fixed-wing military trainer aircraft sales contests in the ascendant, with the new models improve the performance, stand-alone prices gone up accordingly. According to international forecasters military fixed-wing training aircraft for the global market analysis, between 2009 and 2018, the world's average annual demand of around 150, worth about $ 1.6 billion. 2010 demand will reach 212 peak, then gradually reduced, there will be only 88 in 2017 the demand.
piston primary trainer
2009 年 2 月 1 日, Grob Grob Aircraft Company began a series of trainer aircraft production. The company's first order is VT Aerospace Grob 115E ordered 23 trainers. VT Aerospace Grob already has 97 aircraft, mainly to the British military and the Air University Air Squadron to provide basic flight training services. Grob 115E equipped with a 134 kilowatts of engine, weight 990 kg.
engine power of 195 kilowatts, weighing 1,200 kg of SF-260 trainer aircraft has become Alenia – Markey's products. In addition to over 100 civilian-based sales, there are over 700 of the SF-260 in 27 countries serving in the Air Force. Recently, the Italian Air Force ordered 30 SF-260EA, Philippine Air Force has ordered a $ 13.8 million 18 SF-260E.
the former Yugoslavia "Swallow" trainer prototype first flew in 1985, but due to flight two weeks after the crash and manufacturing plant in 1999, destroyed by NATO air force, resulting in the machine development was delayed for a long time. Until this year's February 5, Serbian Air Force was equipped with a 15 to improve the "Swallow" 3 trainer. The aircraft is fitted with a power of 225 kilowatts of engine, weight 1150 kg.
for teaching primary students, some countries tend to use the U.S. Air Force's light sport aircraft. According to the new rules in 2004, two-seat light sport aircraft means the maximum weight of no more than 600 kg, maximum speed 220 km/h, the stalling speed of not more than 83 km/fixed-wing single-engine airplane. Currently the number of light-sport aircraft to more than 100 species, stand-alone price of around $ 100,000.
Cessna 162 light-sport aircraft is a cutting-edge aircraft, first flight in May 2008, with a 75 kW engine power, weight 599 kg, single price of $ 111,500. Cessna Cessna 162 by the company's partners in the aviation industry Shenyang Aircraft Corporation (SAC) is responsible for production, SAC made the first aircraft in the successful maiden flight on September 17.
other light sport aircraft – U.S. West Sharp's SRS is also this year started to accept orders for aircraft, aircraft from the German B & F's Fk-14 "Polaris" derived from light aircraft.
in accordance with the Education and Training Command Air Force contract, the airline is responsible for many of the former Sri Lanka to carry out "initial flight screening" project. From October 2006 onwards, to think the airline is responsible for training each year 1,900 Air Force trainees, each trainee in the project received initial flight training, including 25 flight hours in 19 flights. Doss airlines using Diamond Aircraft's DA-20 aircraft, the aircraft weight 750 kg, install a power of 93 kilowatts of the engine, the price of about $ 250,000.
turboprop powered basic trainers
power the world's turboprop engine widely used primary trainer aircraft for the Rolls-Royce RR250 main series and S & P Canada's PT6 series of benefits, including the RR250 series covers the range of 300 to 560 kilowatts, PT6 series covers a range of 410 to 1195 kilowatts.
the RR250 series, based on the Rolls-Royce has launched a series of improvements in recent years, models, further expanding its power range, including: launched in 2007 RR300, power of 225 kW; 2008 launch The RR500, a power range of 260 to 600 kilowatts. These two types of new engines in addition to a lower cost than the RR250, you can also use a variety of types of fuel.
Czech Walter aircraft engines is now the United States, GE Aviation Group, a subsidiary of Walter and the company can provide a comparable 600 kW PT6 engine – M601H-80.
Ruishi Pi Atlas Aircraft Corporation's flagship product is the weight 2250 kg of PC-7 turboprop trainer aircraft, the aircraft is equipped with a 410 kilowatts of PT6A-25A engine.
with 708 kilowatts in the PT6A-62 engines of the PC-9, based on the United States than the homogeneous Hawker Aircraft Company for the U.S. military developed the T-6 trainer. T-6 weight 2950 kg, equipped with a 820 kilowatts of PT6A-68 engines. T-6 and PC-9 of the difference is, the pressurized cabin with a larger, on-board oxygen generation system, Martin Baker zero – zero ejection seat, windshield anti-bird strike, single-point refueling, and improve the teacher's forward field of vision. T-6 body design life of 18,720 hours, the engine overhaul interval of 4,500 hours.
in the U.S. Air Force and Navy, "Joint Primary flight training system", the 768 T-6A/B will be in service until 2017. Including the Navy's 283 was equipped with large flat panel displays of peace T-6B. Besides the U.S., some international users have purchased a T-6 aircraft, including Greece 45, Canada 26, Israel 25 and Morocco 24. Iraq purchased 36 AT-6B. AT-6B is equipped with a number of light weapons and laser pointers MX-15 day and night, for the implementation of repressive violence task.
not with official U.S. support for the T-6 in direct conflict on the international market, Pitt Las weighing 3100 kg has launched the PC-21 trainer. The machine installed a 1195 kilowatts of PT6A-68B engine, first flight in 2002. Swiss Air Force to buy six PC-21, for PC-7 trainer aircraft with the transition between F/A-18C/D training phase. Participants in the PC-7 after 20 weeks on study will continue in the PC-21 learning 45 weeks and 210 subjects. PC-21 uses a similar F/A-18 cockpit. Pitt has also lengthened the aircraft Las length, so that manipulation of more like PC-21 jet.
Singapore to buy 19 PC-21, to replace the aging S-211 turbofan trainer. In the transaction, the company is actually Pete Las Lockheed Martin's subcontractors. Lockheed Martin is responsible to Singapore for a period of 20 years of training services required to provide 8,000 hours of annual training and 3,500 hours of flight simulator training. Since this contract exceeds the needs of Singapore Air Force, so Singapore will be one part of the training time available to other countries of the Air Force. Up to now, Pete has sold out the Las more than 800 turboprop trainer.
PC-7/9′s main rival is Embraer's "Toucan" series based trainer, now a total of 650 "Tucano" in 15 countries serving in the Air Force. British Royal Air Force's "Toucan" with a TPE331 engine, will retire in 2014, the Royal Air Force to consider re-purchasing 40 to 50, or the existing fleet life extension and upgrade.
"Tucano" series, the latest model is the "Super Tucano", weight 3850 kg, to extend the fuselage, install bulletproof cockpit and a 1195 kilowatts of PT6-68C engines. 5 points hanging machine can carry 1550 kg of weapons, maximum takeoff weight of 5,400 kg. Brazilian Air Force purchased 25 single-seat A-29 and 51 two-seat multi-task-based AT-29, plus 23 purchase intention. Brazilian Air Force currently serving T-27/A-27 "Tucano" part will be sold to Mozambique. South Asian countries have procurement purchasing a lot of "Toucan", Colombia's 25 "Super Tucano", Chile 12, Dominica, Ecuador, eight and 24.
developed by Korea Aerospace Industries KT-1 trainer weight 2422 kg, fitted a 708 kilowatts of PT6A-62A engine. There are already 80 KT-1 and 20 KA-1 was delivered to the South Korean army. After Canada and the U.S. government's permission, sold to Indonesia and South Korea, 12 unarmed KT-1B, while the Turkish Air Force has won 40 ~ 55 KT-1T order, these aircraft will be produced under license in Turkey. KT-1 series, the latest model is called the KT-1C or XKT-1.
2009 year, India's Hindustan Aeronautics started to develop a new type of turboprop trainer used to replace the old HPT-32 piston trainer aircraft.
Air Force Chief of Staff Gen. Norton Schwartz, recently said the U.S. military turboprop trainer aircraft to take some counter-terrorism, counter-insurgency of a class of low-intensity combat missions. Models to satisfy these requirements may include the Beechcraft AT-6B and U.S. aircraft's A-67.
Currently, the U.S. Navy Office of asymmetric warfare is on the lease of a "Super Tucano" assessed that the aircraft may be by the Blackwater security company to buy the airline subsidiary of EP. Order to win the United States, Embraer is considering "Super Tucano" production line moved to the United States, Florida, the company's "Phenom" jet is also produced here.
turbofan powered basic trainers
Western developed countries, the Air Force generally agreed that training in the intermediate stage of the pilot, the use of turboprop-powered aircraft with turbofan than powered aircraft with a more cost-effective. Nevertheless, Alenia – Markey introduced the company is equipped with a thrust of 14.2 kN JT15D-5C turbofan engine M311 trainer.
and M311 have a similar company in the aviation industry Hongdu the K8 trainer. Up to now, exports to the world the number of K8 has reached hundreds of aircraft, aircraft kind in the world market accounted for 70%. K8 engine can be installed, including Honeywell's TFE731 16 kN thrust and Yves Ukraine Shevchenko – Progress Design Bureau, 16.9 kN of AI-25TLK.
developed by Hindustan Aeronautics HJT-36 trainer aircraft first flew in 2003. The machine was originally installed is a Taiwan and French Turbomeca's "Razak" 04H20 engine thrust 14.12 kN, but the production model will be installed by a licensed Hindustan Saturn produced AI-55I engine thrust 17.8 kN. As the prototype crashed, the first HJT-36 aircraft may be delayed until 2012 delivery. If the project can succeed, the Indian Air Force will purchase 211, the Indian Navy will purchase 24.
senior trainer
from a sales perspective, BAE's "Eagle" is the same level of the most successful trainer in the model. If the U.S. Navy's 221 T-45A/C are counted, then there is more than 900 "Eagle" service in 25 countries worldwide. "Eagle" and weighs about 5000 kg, and its total installed engine thrust two more than 6500 kg. British Royal Air Force's "Eagle" MK128 using a Rolls-Royce's "Adour" 951 engine, a single thrust 29 kN. In addition to India's 42 orders, the "Eagle" There is no more orders. In 2008, the aircraft in Singapore and the UAE's bid has failed. Perhaps in the near future, a long history of "Eagle" will be forced out of the market.
widespread skepticism before the Air Force, the world of high subsonic/supersonic advanced trainer aircraft value, because the higher flight speed will reduce the aircraft's life, but this view has changed, because the high trainer's performance is now considered to be as close as possible fighters.
俄罗斯雅克夫 Lev's Yak-130 design bureau called the pioneer of such models. Yak-130 installed two AI-222-25 turbofan engine, a single thrust of 24.5 kN. It is estimated that Russian purchases of at least 200. In addition, the company also developed a MiG MiG-AT, powered by two sets of RD-1700 engine advanced trainer aircraft (a single thrust of 16 kN).
Alenia of Italy – Markey initially participated in the Yak-130 project, then start all over again developed their own M346. M346 first flight in 2004, and dive in flying Mach 1.2 maximum speed. Machine installed two F124-GA-200 engine, a single thrust 28 kN. Currently, the Italian Air Force purchased 15 M346, UAE purchase of 48 planes, including 28 trainer, 20 attack.
AVIC Hongdu company developed the "Falcon" L15 advanced trainer aircraft called the star fields. The machine uses improved over the AI-222 engine, first flight in 2006. Will reach its maximum speed of Mach 1.4. Another AVIC Guizhou Aviation Group developed the "Eagle" advanced trainer, the installation of a WP-14C turbojet engine.
South Korean Air Force has decided to purchase Korea Aerospace Industries and Lockheed Martin joint development of the T-50 trainer. The aircraft first flew in 2002, the installation of a modified GE-F404 turbofan engine, the thrust of 78.5 kN. In the procurement of 82 South Korean Air Force T-50 series aircraft, including 10 South Korean Air Force "shadow" flight demonstration team performances with the machine and 22 T/A-50 single-seat light attack aircraft. South Korean Air Force will be expected to order 60 F/A-50, in order to maintain the production line in 2015. By then, the Air Force's 500 T-38 will face retirement, and by the Lockheed Martin involved in the development of T-50 to replace T-38 is undoubtedly the priority. (High fly)