Home
»
China military
» China led the capture of female engineers, the new military aircraft flight control technology (Figure)
China led the capture of female engineers, the new military aircraft flight control technology (Figure)
Date:2011-09-01
Author:admin
Category:China military
Comment:0
Zhao Shuli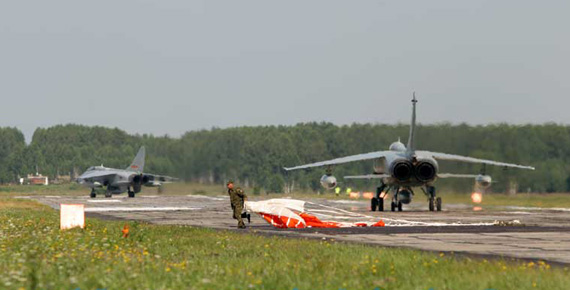 Data Figure: China to the Russian Air Force to participate in joint military exercises between China and Russia-made Flying Leopard fighter
2007 August, Russian, Chinese and Russian" Peace Mission 2007 "joint military exercise site. Loaded with the aircraft industry automation control systems designed for a Silver Eagle to fly into the sky, across the sky.
the aircraft took off successfully achieved zero-failure, zero defects sky flying over Russia and land safely!
that successful flight, the flight control system controlled by fixed-wing deputy chief engineer of Zhao Shuli very excited. To this moment to take off, she waited too long for too long, too much to pay too much.
2007 years, as controlled by the flight control system technology research and development charge of Zhao Shuli received a certain type of aircraft flight control system of the task. The type of aircraft on the formation of both offensive and defensive national defense capabilities of our army of great historical significance, is the first development in the country. This is an unprecedented challenge, but also a golden opportunity.
of such aircraft as the lack of core technology in many technical reference information and can learn from the experience in engineering, Zhao Shuli create conditions for active research. She led the group extensive collection of advanced foreign technology information, in-depth study of advanced aircraft flight control system of similar configuration and typical trends, functionality, performance, reliability, security and other aspects of an overall feasibility of the model aircraft flight control system special needs. She carefully combed the core of the system components and key technologies, to develop a detailed technology roadmap and solutions. Survived countless sleepless night, sweat finally paid breakthrough barrier technology and technical programs to determine.
Zhao Shuli recognize and promote the professional development needs to use part of the overall flight control system of professional technical advantages to the system drive components. Thus, a "traction system components, the overall demand for proof," the idea was born. For this new way of thinking, her first top-down decomposition, to confirm system requirements, but also a bottom-up system needs comprehensive verification. Through the core components of prototype development and validation testing, a number of technical difficulties were 11 break, to strive for greater self-control of the flight control systems and components developed to lay the technical foundation for the share.
joint military exercises in the training period, she participated in exercises as security staff and services the only female in the country's border braved 50 degree heat for 40 consecutive working days, the skin was tanned a dark bronze. Training airport does not have the ladies room, she was not a last resort do not drink water, drink also try to drink less. Northwest border wind, dry air, her mouth covered with foam, can continue to ease, commanding, a technical problems solved in her hands. Training to people who say, Zhao Shuli's the best place to test security work. After the exercise, she received the design of flight control system constantly forces favorable. She won the third class!
performance is over, a new starting point, as controlled by the flight control professional technology leaders in the rapid development of aviation technology today, Zhao Shuli not have the slightest slack. Step faster than others, the first step than others, is her constant pursuit of the goal.
she chaired a national focus on pre-research and model development issues, to achieve a number of the first: the first time, the corresponding identification methods such as pulse and nonlinear modeling techniques, digital control technology, established a system-wide real-time simulation model discretization; the first time the sled method terrain-following method, successfully applied to the flight control system, low altitude penetration, won the provincial and ministerial level scientific and technological progress second prize; the first time a UAV flight control , engine thrust control and integrated fire control, the Defense Science and Technology Progress Award. One of national key projects in the three-axis digital control augmentation and autopilot systems developed, she was the first use of many advanced technologies, the task of effectively improving the overall reliability and flight safety, the Defense Technology Progress Award, she was awarded the second class. Zhao Shuli has repeatedly been rated as controlled by the advanced workers, Women's Federation in 2008, was named defense technology industries "women's meritorious deeds" model. (Qiao Ying Liu Ji)