Home
»
China military
» I recalled special forces in Iraq as bodyguards: close-hand look at people bombings
I recalled special forces in Iraq as bodyguards: close-hand look at people bombings
Date:2011-08-31
Author:admin
Category:China military
Comment:0
Ho root-funded organizations in Iraq as security. Picture provided by the respondents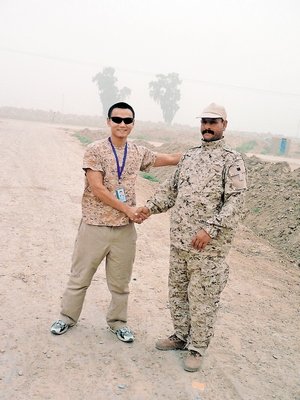 Ho root (left) and Iraqi friends. Picture provided by the respondents
1.70 meters tall, dark skin, keep a head board, hair bristling stud, strong body makes the body's T-shirt looks particularly full … … 27-year-old boy Liuyang Ho root an appearance, you can make sense out of his body hidden power.
"local time on August 3, 18 am, the southern city of Kut in Iraq car bomb attack hit a chain, at least 12 people were killed and 50 wounded." Ho-keun, the news aroused his sympathy "Because I work in Kut, there often happen, I met twice."
can an unarmed enemy four
Ho root is the town of Liuyang City, King Edward Village, where he had the famous Chinese People's Armed Police, "Snow Leopard Commando" service. After the war, the Chinese oasis oil phase, thousands of miles away in Iraq, a Chinese oil field security work. This home is ready to marry because his beloved girl. Yesterday, the reporter went to interview roots Ho, Ho new houses are being renovated.
2003, the root of Ho graduated from high school enlisted in Beijing Armed Police Corps. Just joined the army, he do 200 push-ups a day, 200 sit-ups, 100 leapfrog, weight 35 kg to complete the 10 km cross-country. High-intensity training make this guy not afraid of hardship of farmers outstanding in the fellow quickly. Soon, Ho root for outstanding performance in a variety of training, was armed, "Snow Leopard Commando" fancy.
through this training, the ability to scale new heights under Ho. He said he used a pistol from a gun, bullets loaded into the shooting, just less than 3 seconds, and can hit 10 meters from the eggs. To target practice on the 100 meters he can play at least 50 ring 47 ring, 200 meters of the target rate of 70%. "I am 100-meter pistol shooting the best score is 49 rings, 200 meters to get the best shot every time." Ho-keun, "If you are unarmed, I can be the enemy had four similar age and stature, but I have not received special training of young men. "
Ho and his comrades had roots in India, Russia, more than 10 countries and exchange of special forces conducted a contest, but that his most memorable is the implementation of the Beijing Olympic Games security tasks. He and his comrades as the Olympic core area, the central area of ??the task force to handle emergencies. He said the Beijing Olympic Games organization particularly well in carrying out their mission, basically nothing happens. Only once, during the course of a game, an athlete's family that the referee denial of justice, resulting in little scenes of chaos, he and his comrades soon quelled the situation. "This experience enough to make me proud of my life." Ho root proud to say, "This is my last time in the armed forces perform the task."
security work in Iraq as a very nervous day
Beijing Olympics, Ho root face retirement. A few days before retirement, the Chinese oil companies to force Oasis to Iraq to recruit people to work for the company's main task is the exploitation of oil fields in Iraq, Kurt perform security tasks. Oasis Oil Company is in China Petroleum Group and a subsidiary of China North Industries Corporation joint venture, responsible for China's oil investment in Iraq and oil development mission. Oasis development of Iraqi oil allowed to participate in the eastern province of Wasit province Ahmed on behalf of the cloth field, this is the first post-war Iraq's foreign oil cooperation projects.
very unstable situation in Iraq, Ho root to make a telephone call home to seek the views of family and lovers. Get their support, Ho decided to accept the root of this very challenging task. Soon, he passed the test company and hired by the company. He said, to work in Iraq is an opportunity to showcase the Chinese style, although there are risks, but it is glorious. July 15, 2009, he boarded the plane to Dubai, and in this turning point, after more than 30 hours of journey to Da Kute.
long as there is instability in Iraq, they are responsible for the security of nearly 40 Chinese-funded institutions who are very nervous day's work. "That is absolutely not out of any problem." Once, an Iraqi oil field vehicles to transport materials, due to language barriers, young people do not listen to Iraq to drive instruction, straight to the company's resident flew away, making the on-duty root of what Ho sub-hairs stood on end. "I notified the front side of the sentry interception, while driving to catch up. May be driving the Iraqi young people who are not familiar with road conditions, speed cut down, and I immediately rushed to the throttle the car stopped in front of him." Something like this, he Almost every few days will encounter while on duty.
Ho-keun, the company is building a U.S. base oil with less than 10 km apart, often with rockets flying over the seat from the company. Every day, they get up around the operation area is about the company, and if we encounter an unknown object or persons unknown, to quickly deal with, "we must ensure staff safety."
100 meters within the witness 'suicide bombers' explosive
"came to an end the war in Iraq for several years, but Iraq is not peaceful." root Ho said he had experienced two occurred in the company's construction site near the bomb blast. The first was in September last year. At that time, security tasks are running under Ho saw a van driving on a road on the former, in the process of moving, the vehicle suddenly "bang" heard an explosion. "Vehicle explosion, the explosion from my point of not more than 200 meters." Confirmation explosion did not cause danger to the company after he and his companions and the local one, injured in the rescue work.
another explosion took place in March this year. At that time, a body tied to a time bomb down the 50-year-old local man came to a place far away from the company to seek assistance. Because that man said the bomb was more than 10 chains locked, EOD experts, after the lifting of a few chains, found no time, had to quickly run away, "ran less than 10 meters, a bomb explosion, the ground blasted a pit, wearing thick protective clothing EOD experts are also blast lift down to the ground. "At that time, Ho root in less than 100 meters away from the explosion where the explosion set off a huge blast when he can feel.
spare time likes to play with the Iraqis
Ho-keun, although intertwined with a variety of forces in Iraq, the situation is very tense, but Iraqis the Chinese people very friendly. In addition to work, he often exchanges with the Iraqis together, and their desire to deeply felt desire for peace. An Iraqi once told Ho said: "While we really do not want to fight, and just had a smooth day."
because of years of war, Iraqis now living conditions are bad. Whether to eat or live, is far worse than domestic, and no entertainment. Ho roots in the work of Kurt, the Iraqis involved in the wide range of activities is playing soccer. Because here the land is flat, just a piece of land to set aside, is a football field. "The Iraqis are basically playing barefoot in the sand." Ho root like playing football, playing football with the local Iraqis he became the best way to communicate. As more Iraqi man beard, looks bad deal, but they live a long time, you will find the character not imagine the Iraqis as fierce. But, in football, especially Iraqis. "Sturdy."
Iraqis especially admired China quiet life, Ho-keun, usually associated with them, they always some humility. Only once, the Chinese soccer team lost to the Iraq football team, "those Iraqis suddenly in front of me a lot of air, which may be local Iraqis are getting back some sense of pride."
In Iraq during the root Ho log in every day, and QQ chat lovers. He said in the chat, he can feel in the growing home, felt very comfortable. (Source: Star Online – Changsha Evening News)