Home
»
China military
» Garrison Scout unfamiliar waters need to deal with jellyfish attack training
Garrison Scout unfamiliar waters need to deal with jellyfish attack training
Date:2011-08-31
Author:admin
Category:China military
Comment:0
team members work together to push the boat into the sea.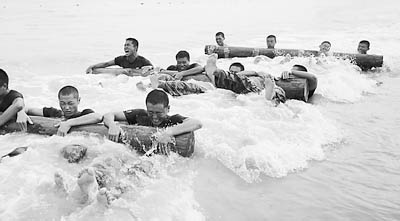 players are practicing in the water holding logs sit-ups.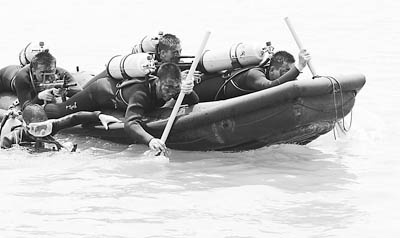 tactical surprise drill team members. Chen Lixin Zhang Zhen Vivaldi
??
recently, in Hong Kong, the task force focused its defense needs to pull the unfamiliar waters trained reconnaissance unit, through the organization of high-intensity fitness, fighting, cliff climbing, scuba diving, sea shooting, survival island, the sea reconnaissance and infiltration subjects training to improve the combat capability of amphibious reconnaissance.
8 月 21 日 凌晨 5 when 30 minutes, a rapid whistle sounded, scouts have a collection of emergency on the beach, a day of "devil training" began. Extreme physical training is compulsory for every morning they head – weight 20 kg per person on long-distance running on the beach 5 km, then marshalling the cycle beyond the physical training, that each group of 100 wading push-ups, 100 sit-up logs hold water ride, 20 chin-up, 1,500 meters canoeing, carry 200 kg log to run 1,500 meters.
morning, the sea rough. Officers and men in the deep water diving training. Unit cadres Fan Zhanjiang, said: "Today's complex sea conditions, operating for a long time, dive training for officers and men of the physiological and psychological limits are a challenge."
"water!" As commander Peng Xiaohui order, dressed in a black diving suit standard two special soldiers a Mengzi dive. Soon after, in the imaginary enemy positions east of the shore waters, divers unearthed two heavily armed surface, look around warily, and slowly arrived Beach, and quickly occupied the forward positions, structure-based fire control points, use surveillance equipment for the follow-up landing forces live battlefield protection.
sea training, officers and men not only with the "wave" dance, sometimes by a variety of jellyfish attack, but scouts have such problems too difficult to learn. Platoon of armed soldiers led by Wei Yueguang a big jellyfish swimming with the "encounter", he backhand caught jellyfish, a bite, hard toss jellyfish was torn in half. Wei Yueguang said with a smile, eat a delicious today "cold jellyfish."
afternoon, the soldiers came to known as "the days of Shi Jian," said the island started to climb the cliff to practice. Shu Zhang unfamiliar terrain and steep high, the squad leader Huang Yazhou first grabbed the rope with his legs caught in the rope, pull upward alternating hands, while the use of convex and concave parts of the cliff, agility to climb to the cliff top .
then, had been living abroad for technical training instructors again dozens of commandos to stay in an island, and took all the fresh water.
bar raft, log fires, catch fish, pick berries, the soldiers began to use primitive means to survive. Sub captain Li Xiaoyun, said: "Through a series of rigorous training, special warfare officers and soldiers will be comprehensively improve the overall quality for the long-range penetration operations and lay a solid foundation."