Home
»
China military
» Chinese naval ships have visited the Indian media raised concerns in Myanmar
Chinese naval ships have visited the Indian media raised concerns in Myanmar
Date:2011-08-31
Author:admin
Category:China military
Comment:0
Chinese naval fleet escort the fifth, "Guangzhou" ship officers and men waved to the welcoming staff.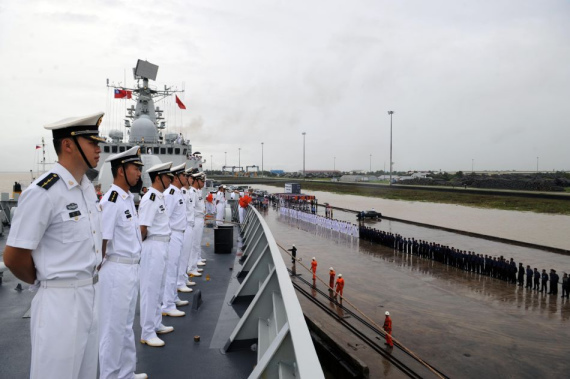 Chinese sailors arrived in Myanmar on the occasion of Yangon Di Luowa Hong Kong lined up on deck.
Global Network reporter Zhong Weidong reported by the Chinese Navy Fifth Fleet escort "Guangzhou" ship, "lake" ship in the fleet to visit fleet arrived in Yangon on August 29 Diluo Wa Hong Kong, began a goodwill visit to Myanmar . This is the first time Chinese naval fleet to visit Myanmar. Although this is only in Chinese naval fleet visits a station, the purpose is only to strengthen the traditional friendship between China and Myanmar, but it caused the foreign media, especially India, media attention and speculation.
"Indian Express" on August 31 published a paper entitled "ushered in the first time Chinese naval port in Myanmar," the article said for Myanmar to usher in the Chinese navy's visit cheers continued, but a number of military observers in India China Hong Kong treated the Di Luowa into the Indian Ocean, the series for the "string of pearls" but on a "pearl."
article said that China's assistance to Pakistan's Gwadar port and the Sri Lanka Hambantota port development, and the Maldives, Mauritius and Seychelles, Indian Ocean island nation of assistance, has caused great concern in India. China says the growing interest in the Indian Ocean, the need to protect the security of sea lines of communication to ensure a lot of energy and raw materials for the supply of fast-growing economy.
article also said, regardless of the outcome of the military observers speculate, India have to admit that the Chinese navy's visit is an open event, designed to carry out Navy Exchange worldwide.
"Hindustan Times" on August 30 reported that two Chinese navy ships visit to Myanmar highlights, although the Chinese side stands the Asian giants – India, but China is still in the Navy rise. China has some of the Indian Ocean port of nation-building in order to ensure the safety of Chinese sea lines of communication, which will seek Indian leader of India's intention to have an impact.
a retired Indian Navy officer said, "We do not need to visit Myanmar issue of the Chinese navy to take measures, just wait and see," he also said: "China to convey an important strategic information : 'Look, we came, we were able to do something in the region'。"
U.S. "Christian Science Monitor," the article said that China's recent assistance to Pakistan, Bangladesh and Sri Lanka and other countries for port construction, strategic experts in India in this series act as "India backyard," surrounded by India to create a "string of pearls."
article analyzes that, as the global economy, the strengthening of ties between China and India, the two countries, the importance of the Indian Ocean will also increase. Around that sea traffic arteries, countries should strengthen mutual cooperation, not competition. However, India believes that, if you want to ensure their economic security channel, we must strengthen the power of the Indian Navy, and priority is to ensure that the area from various ports in between, however, some ports in the region have fallen into China the "expansion of the range."
Chinese naval visit to Myanmar, also contributed to the Indian Navy experts on how to maintain the status of India in the Indian Ocean, a fierce discussion. Some experts proposed that India and "vulnerable countries around the Indian Ocean," an agreement signed bases, and to provide naval protection. Indian Navy experts have urged India not to do parts of "take the lead in Big Brother," but recommended the establishment of the Indian Navy's largest naval regional forum, because "to become dominant in India will lead to many negative voices."
HD Photo: Chinese Navy fleet of new warships visit to Myanmar