Home
»
China military
» Song Xiaojun: F-10, step 3 on behalf of the reliability of equipment subject to inspection abroad
Song Xiaojun: F-10, step 3 on behalf of the reliability of equipment subject to inspection abroad
Date:2011-08-31
Author:admin
Category:China military
Comment:0
Chinese Army 99 main battle tanks into the exercise area. Xinhua News Agency reporters Sun Yan and Xin She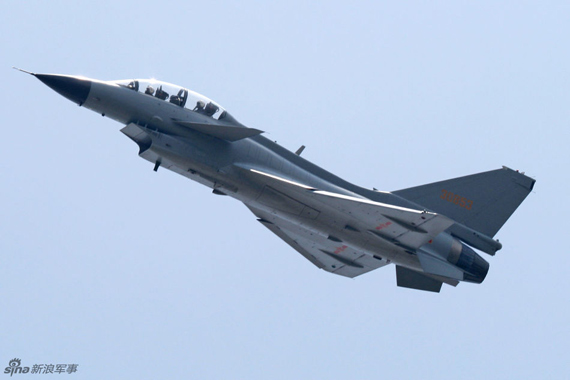 data for: People's Liberation Army Air Force two-seater F-10 fighter
China and Kazakhstan, and Kyrgyzstan, Russia, Tajikistan, five armed members of the Shanghai Cooperation Organization force will be held in Kazakhstan, code-named "Peace Mission 2010″ joint anti-terrorism military exercise. The exercise will have what? What is the significance of China's military power? "Global vision" September 9, 2010 complete sets of the "" peace mission "once again highlights our military staged more than" following for the show:
Moderator Shui Junyi: will be held in Kazakhstan's military exercises Peace Mission 2010. China and Kazakhstan, and Kyrgyzstan, Russia, Tajikistan, five members of the armed forces of the Shanghai Cooperation Organization will be held in Kazakhstan, code-named "Peace Mission 2010″ joint anti-terrorism military exercise.
far as we know, this morning, China has been participating the last one echelon arrived safely and smoothly in the exercise area. The Chinese have one hundred men, divided into an army battle group, an air battle group and a comprehensive support group, to participate in this exercise.
should say that this is the Chinese army with foreign troops, in this year's largest-ever exercise, the exercise of some of the relevant circumstances, we have to connect this station's correspondent in Kazakhstan Ni mission rather, ask him to tell us about the latest situation. Ni Ning Hello.
Ni Ning our station reporter: Hello Shui Junyi.
Shui Junyi: to us about this exercise soon the curtain opened, the Chinese forces participating units are already in place, depending on your reported to us about you now know some of the latest situation, and China in preparation for this exercise if there are any follow-up activities?
Ni Ning: is the case. This morning the troops arrived in China two-tier, there is a sixth tier is the fifth, sixth echelon in today's 9:15 local time, arrived in Ao Taer town, which is the Chinese army fighting the troops The last echelon group, as of 16:00 local time today, which is GMT 18:00, all the troops stationed in a Chinese Matt Black training ground field barracks. Field camp is now a training ground for the heart is basically a tent built up multi-country training camp, there are nearly one thousand meters vertical, horizontal, five meters, quite spectacular. It is arranged according to the Ehataji order, with no walls, only the way across.
main activities today is to force the camp, set up camp some of the work. Our latest understanding of the situation, China's chief of staff today has reached A Lamu map today they had a number of multilateral meetings, the exercise will be held tomorrow, a strategic consultation, the strategic consultation exercise is actually marked the official start.
Shui Junyi: Well, thank Ni Ning from Kazakhstan on joint military exercises, a very detailed report. I think then we talk about this exercise.
now, according to media reports, this exercise is divided into four parts, force projection, strategic consultation, Ni rather have just mentioned, then the battle planning, military exercise, the four content how the arrangement? Why is it such an arrangement?
are comments: "Peace Mission 2010″ various stages of the main content
Song Xiaojun Commentator: Of course, these four Finally, the entire arrangement of the content may be interspersed in a different order, sometimes may be carried out in parallel, of course, a military exercise I feel more noteworthy is that it has a lot of, for example, live firing exercises at night, to keep up with time, including China The first third-generation main battle equipment in foreign appearance, this is very noteworthy.
this program with the program last year, said earlier that the force delivery, that process is the same as last year.
Shui Junyi: to see how hung this exercise? Because this is tantamount to a joint military exercise of the SCO has been engaged in the seventh, and how to see such an exercise?
expert opinion: the purpose of the exercise clearly directed at the three forces
Lawsuits Commentator: should be said that this exercise Its purpose is very clear, in this region, the five countries concerned, faced with a very troublesome problem, the problem is that three forces, so the purpose of this exercise is very clear, direct vertical three forces, we also see in this process, including military force, five countries, each country is 1000 soldiers, that we regard this issue very seriously, including the real soldiers of the exercise, this is a very careful planning , including the middle of a lot, we can see in the next, and exercise should be said several times before a certain inheritance, used to be aimed at this, these countries in the region pose a serious threat to the three forces of terrorism, separatism forces, including extremist religious forces, etc., it is a strong blow.
Opinion: SCO is not a military alliance
here is concerned, be clear, we look at the process, do not misread the SCO military speech, we see that some Western media that the SCO is not the future will evolve into a military alliance, in fact, the SCO is a major goal for the three forces, but there are others on the one hand, such as peace purposes, including trade, etc., friendly exchanges, so here I think, though, said this time we see a large scale military exercise, and strength than ever before, a lot of input, but do not misread as the Western media as a military alliance .
Shui Junyi: does not like NATO, such an exercise is completely exercise such a military alliance, has for the party, such as third country.
Lawsuits: We are in the process of the SCO military exercises against the three forces, and not for his country such a purpose, so that this misunderstanding is that we must prevent .
are comments: the maintenance of stability of the joint military exercises in Central Asia contributed to
Shui Junyi: Song you actually just mentioned, we participating forces there are some bright spots, the new equipment appears, for example, I see the information on the show, like 99 tanks, and F-10 fighter aircraft, as well as including straight-9, the appearance of these weapons have any special meaning?
are reviewing: China's first show outside of the new equipment
Expert view: the first third-generation equipment, the reliability of Chinese weapons test overseas debut
Song Xiaojun: I think so. In 2009, when we see the National Day parade, the third generation of our domestic equipment, many of the first appearance in Tiananmen Square, Tiananmen Square appeared, so much equipment, such as a tank, tens of thousands of parts to put it together, can take tens of minutes in Tiananmen Square, the reliability of each component to the hundreds of millions to one, is something wrong, of course, the reliability of the test was just in Tiananmen Square, the environment, we are all familiar with the conditions Now pull it abroad, pulled Kazakhstan drill ground, thousands of kilometers transported to that place, it's okay to protect conditions, it can not go up, can not fire at night, while the other two assault groups with is left-right three assault groups.
Russia and Kirghizia is an assault group, Kazakhstan and other countries have two assault groups, China is an independent assault group, the Army assault group, and their coordination, including our F-10 fighter jets, we also seen flying in Tiananmen Square, or air show, I read, but it kind of an environment, in our tanker and AWACS domestic security situation, our F-10 fighter aircraft to complete an independent outside series of operations, it is okay, after not stand the test.
Shui Junyi: is a unique opportunity to test what our reliability.
related topics: SCO Peace Mission 2010 military exercises