Home
»
China military
» Liberation Army Daily, the author reviews the U.S. military use of space fighter developed X37B
Liberation Army Daily, the author reviews the U.S. military use of space fighter developed X37B
Date:2011-08-30
Author:admin
Category:China military
Comment:0
X-37B launch Assumption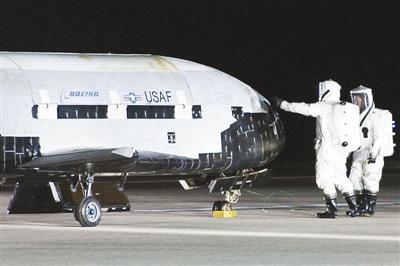 X-37B landing at Vandenberg Air Force Base
Backgrounder: December 3, 2010, after more than seven months after the mystery of space travel, U.S. Air Force X -37B space plane in Los Angeles, Vandenberg Air Force Base, a smooth landing. X-37B in late April last year, from Cape Canaveral, Florida, United States Air Force Base by the rocket launch, and has been flying around the Earth. Currently, the outside world only know it in the space of five times during the orbit maneuver, the U.S. military aircraft for the true nature and purpose remain confidential, the more it cast a veil of mystery, the U.S. media have the X-37B called "the mysterious space shuttle." And people are more concerned about the United States developed the space plane in the end what purpose?
before the X-37B launch, the U.S. military has said, X-37B's officially called the "orbital test vehicle," it will perform tasks such as navigation, orientation, thermal protection, and testing tasks, adding It does not lead to "weaponization of space." But clearly, this has so far invested hundreds of millions of dollars in secret project can not be "so simple."
X-37B research and development was originally started by the U.S. NASA, and later changed by the U.S. Defense Advanced Research Projects Agency to implement the final and rapid response capability by the Air Force took over the office, the dominant sector in the change process seems to have described its military significance.
B-2 and B-52 need 12-24 hours to complete long-range bombing mission, X-37B is only two hours
X-37B in the end what the potential military purposes? Externally, it is about 8.8 meters, wingspan of about 4.6 meters, takeoff weight of more than 5 tons, only the United States serving size of a quarter of the space shuttle. In a sense, it can be seen as an advanced space fighter combat aircraft or space prototype, with a high military value.
space plane can travel freely between heaven and earth, the space shuttle able to do all it can almost be competent. It can be a large satellite into Earth orbit, satellites put in more time it's good job; it or back to the ISS astronauts and a variety of materials; more importantly, it can perform a variety of such intercept, reconnaissance and bombing and other military tasks, become quite powerful space weapons.
space plane flying very fast, in between any two cities on earth flight time does not take 2 hours.
Thus, in the military, the space plane used for both intercontinental strategic bombing and reconnaissance, but also as a space launch vehicles or space weapons. Its main tasks are: transportation, launching small satellites, attack enemy satellites, attacking ground targets, quick to send troops. U.S. space plane program, there is a trans-Pacific flight is used as a hypersonic transport aircraft, capable of 5 to 6 times the speed of sound at 3 meters of altitude for cruise flight, only two hours to fly from the United States, Dulles Airport to Tokyo, Japan.
past the U.S. Air Force issued a long-range bombing missions, the general base and targets depend on the position to decide to send B-2 stealth bombers or long-range B-52 bombers, which often takes 12-24 hours to complete the task. Both space plane is cruising in space, but also perform strike missions directly into the atmosphere, will make the U.S. into a real "two-hour global fight ring." U.S. Department of Defense had "attack within two hours of any target on Earth's rapid global strike" strategic vision. X-37B space plane is undoubtedly a tool to achieve this strategic vision.
In addition, the U.S. military will also be used as weapons in space X-37B carrier, and as test platform and a common platform to collect all kinds of intelligence. After the X-37B launch, there was a group of international observers on the spacecraft, space for a continuous track, they mainly use telescopes to track spacecraft video, make sure that the spacecraft can be used as a new spy satellite. According to observers from Toronto, said a space, X-37B through the Earth every four days in the same area, similar to the U.S. imaging satellite. Fans said about X-37B Orbital above the Earth 410 kilometers, or about a circle around the Earth every 90 minutes. X-37B's flight path through a number of U.S. military interest in the region, including Iraq, Iran, Pakistan, Afghanistan and North Korea and so on.
X-37B If you install the "robot" on the satellites of other countries can be "packaged" back; if the load on the arms, it becomes a standard space fighter
X -37B set a number of advanced technologies in one of its "unmanned space shuttle launch vehicle +" model also represents a higher level. Although it can be used worldwide to combat and reconnaissance, but the positioning of the X-37B is probably not enough.
global fight against the U.S. military already has a variety of means, loading hundreds of "Tomahawk" missiles, nuclear submarines, stealth missile hanging full strategic bombers, intercontinental missiles with conventional warheads and other modifications can meet the U.S. operations, which have no need for costly re-development of a dedicated space bomber. Therefore, X-37B ground attack/reconnaissance capability is likely to be "part-time", its main operational direction is still space.
As a result of autonomous driving and navigation mode, X-37B can deploy long-term in space. Once the U.S. military will be positioned as a battle space, X-37B can be on other countries satellites, spacecraft and even the space station to start with. If equipped with a simple "robot" (the U.S. space shuttle has been equipped with such equipment), X-37B can be another country's satellite "package" back to the United States; because regardless of aerodynamic layout, X-37B to load or mount a variety of weapons, equipment, missiles, X-37B became the standard space fighter, to deter other countries spacecraft and space facilities.
so in the future war, both can be used as air force in combat, you can also join the ranks of the military days, appeared on the battlefield in space, with the "enemy" fight.
last July 29, October 7 and 9, X-37B is not within the specified time points through the monitors, the mysterious "disappearance." Watchers spent more than two weeks time to re-find it, it changes the track and the original direction of flight. From the X-37B shows a strong ability to orbit, the future, once received attack instructions, X-37B can temporarily adjust their altitude and angle of attack to the satellites of other countries. Similarly, it also has the capacity to completely orbit, the U.S. military to fill the existing gaps in satellite reconnaissance capability, so the true sense of "emergency response."
X-37B space or will lead to war by the United States to promote, worldwide air and space aircraft development has been fully heat up
X-37B is likely to be a worldwide arms race in space a new milestone to the world a dangerous signal.
as a potential strategic weapon, it may be dangerous to the world is not smaller than nuclear weapons. At present, although the X-37B is only a technology demonstrator, but the future will be more mature follow-up models, more advanced. A few months ago, the U.S. military has announced that the second X-37B aircraft development work are being stepped up and are expected to be completed in spring 2011 test flight.
driven by the United States, worldwide air and space aircraft development has been fully heat up. Aerospace aircraft currently have the technology, the conditions of countries, mainly the United States, Russia, the European Union and Japan. Which Russia is still in the field of hypersonic technology is a world leader, there are a number of its domestic long-term commitment to institutional theory of hypersonic technology base, and fuel technology, high-temperature materials and integrated design technology has made a major breakthrough has been into the space flight validation phase.
the same time, European countries are seeking to develop. France since the 1960s has been for hypersonic research. British scientists say they are developing a common runway from planes taking off and landing of the space can be space tourists to five times the speed of sound into Earth orbit, the aircraft is expected to come out in 10 years.
In addition, Asian countries such as Japan, India is also active in experimental space plane technologies. Japan has mastered the ignition, thrust measurement, fuel conditioning and engine cooling and other key technologies. Currently, Japan is implementing a hypersonic vehicle technology projects is two orbiting space vehicles, the first high-level supersonic transport aircraft, its flight speed of up to Mach 6.
Indian Defense Ministry also launched a small reusable space plane program, when it does not carry the rocket engine can be used as a hypersonic aircraft for ground attack or reconnaissance, and then returned to base. Currently, several laboratories have been printed had made substantial progress, supersonic combustion efficiency has reached the design value of 70%.
the foreseeable future the world in the space plane will become increasingly fierce competition in the field.