Home
»
China military
» China's shipyards will be a lot of new technologies and new materials used in ship manufacturing
China's shipyards will be a lot of new technologies and new materials used in ship manufacturing
Date:2011-08-30
Author:admin
Category:China military
Comment:0
supervision of the Military Representative Office of "Kunlun Mountains" amphibious dock landing ship.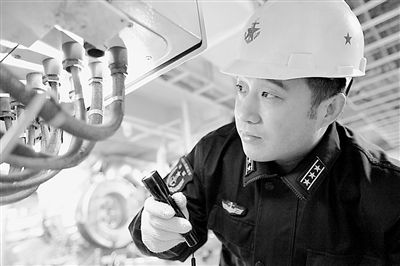 military representative is checking the quality of ships.
preview
▇ This is a new generation of "Chinese name ship" directory: "Kunlun Mountains" amphibious dock landing ship, "Lake" comprehensive depot ship, "MOS" was, "lake" No. "Zhoushan" new frigate … … In recent years, they travel across the ocean in the Gulf of Aden to escort to create exploits, the victorious return.
▇ these ships, both naval shipyard in the military on behalf of a room supervision. Zhezhi average age of only 37.9 years of "official supervision" team created the People's Navy, more than 20 equipment manufacturers in the history of the first, by the National Science and Technology Progress Award and the army more than 60, supervision of the type 3 ships by the National Quality Gold.
form a "national team" joint research, a new generation of guided missile frigates to solve technical problems more than 2,000
new generation of hundreds of enterprises involved in missile frigates, the Navy Military Representative Office in a shipyard and factory work together to overcome more than 2,000 technical difficulties, the 1000 number of new technologies, new materials, new manufacturing processes applied to the ship.
surface combat ships noise reduction technology is a key technology. The beginning of a new generation of frigates designed, made when he was chief representative of the Xue Weimin this technology into the new battleship. At that time, many experts believe that China is not mature in this area, the practical application of risk, proposed to be suspended. Xue Weimin and design experts to research units, measurement noise control model. After a year of hard work, and finally come up with a perfect design, so that our next-generation guided missile frigate, noise reduction technology to achieve new breakthroughs.
impact technology is the next generation guided missile frigate need to break the eight key technologies. Chen Bin, director of military coordination on behalf of the domestic research institutes to form a "national team" joint research, has launched a "new frigate design and impact assessment", "scale model of the hull underwater explosion test," and other research. After more than 800 days and nights of hard work, they succeeded in solving a series of technical problems impact the ship will successfully applied to a number of new results on the new generation of guided missile frigate, so that our surface ships have a new resilience breakthrough.
new generation of frigates large tonnage, requires the use of new high-strength steel, welding process is very complicated. First welding test, the passing rate is low. "High-strength steel in the end okay?" Critical moment, the military representatives who stand resolutely: "We must coordinate the technical strength, eating the next piece of hoe!" Them and start all over again with factory technicians: research and high-strength steel re-match wire, the formulation of welding technology, the introduction of advanced welding equipment … After thousands of experiments and exploration, and finally to a welding pass rate to 98%.
warship is to observe the country's industrial technological level of the window, on behalf of contemporary Chinese warships "Made in China"
whenever I saw on TV in the Navy The scene on the Gulf of Aden to escort the senior room Chen Qian always feel particularly proud.
"Kunlun Mountains" landing ship, "Lake" comprehensive depot ship, "MOS" was, "lake" No. "Zhoushan" new frigate … … Chen Senior Engineer counting down to the author said: "These behalf of the Chinese naval warships escort mission to perform, are just like our own 'children'!"
wit, Chen Qian has been more than 20 ships involved in the development of monitoring made, and always strive for excellence. Once, a new ship to do hydraulic windlass power test facility according to the traditional test methods that windlass qualified, Chen Qian insisted to do bad sea conditions of ship pilot found that there are quality issues cylinder anchor to avoid quality problems together.
time, the chief representative of Sun Ming led his unit to carry out testing of steel plate weld test and found that there are several non-compliant, requiring factories to improve technological measures. Factory explanation: "Ten fingers have length, how each weld are the same?" Sun Ming patient persuasion: "ships to observe the national industrial technology of the window, contemporary Chinese warships on behalf of 'Made in China', any flaws will affect the national image. "He together with relevant departments of replication factories, has developed 10 quality assurance measures.
senior Ding Guangqiang charge of the missile weapon system involved in 13 professional, a dozen plants, each of supervision a ship, are down a few Big thick acceptance records and test data. So far, he more than 1,000 recommendations for improvement, 90% of plant design and adoption. He said: "I hand out the equipment, I dare boldly to ensure that I am not afraid of offending people, afraid I'm sorry state."
the birth of each of a ship, embodied the military on behalf of hard work and sweat. Each piece of steel, every weld, every valve, military representatives have to personally check. In the new frigate design phase, the military representatives also organized more than 10 times the force of experts for comments, the officers and men made more than 500 comments and suggestions, most of the design department was adopted.
equip a new generation of people in the Navy official supervision, to carry forward the military dock compartment when the battlefield fighting spirit
a ship the size of compartments with at least four to five hundred , from construction to delivery, the military representatives to climb into a cabin check every weld quality, a dry-down ship, "crawl space" at least hundreds of kilometers.
deputy director of the hull, said Sun Yun, warships bottom compartment space is small, only crawled, was stuck inside is common. Since the construction phase can not start the ventilation system, the hold oxygen, exudes the smell of welding. Time, the military representatives Wang Dongtao continuous inspection three compartments, the difficulty in breathing, weak limbs, has been unable to climb out of cabin, thanks to be comrades in arms in time, force him to pull out.
special tank of high quality paint, not a little impurity, is responsible for the military representatives on the drilling ship to go with silk, with the dough check if any dirt and debris. Summer, the cabin temperature up to fifty or sixty degrees Celsius, in order to prevent the sweat dripping on the bulkhead, they were wearing thick sweat clothes, cover him down several times checking out the prickly heat … …
build new ships After, all the weapons and equipment to do a variety of performance tests and trials, military representative to be responsible for each of dozens or even hundreds of units (sets) of equipment. Young woman with arms on behalf of Chen Nannan ship out to sea trials, the nausea and vomiting tortured her tough battle. For the completion of experiments, she tied with a backpack on his own position on the war, placed next to a plastic bucket, while vomiting while recording parameters, a series of seven days, she did not leave their posts.
military representative to the static field, has committed more than 40 ships of the gun weapon experiments. Each test, he should for each of the missile body shells, fuses, primers to be checked. A launch test, a shell card bore, critical when he courage, climbed gun seat calm disposition, the card bore shells removed.
senior engineer Wang Hill completed the 200 diesel engine testing and experiments, due to long years of work in noisy environments, and his eardrum damage, long-term sleep affected … …
This is the new generation of equipment, supervision official People's Navy!