Home
»
China military
» Japanese media focus on China's military rank anti-ship ballistic missile topped
Japanese media focus on China's military rank anti-ship ballistic missile topped
Date:2011-08-30
Author:admin
Category:China military
Comment:0
data for: the 2009 National Day military parade of the Second Artillery Corps, the DF-21C ballistic missile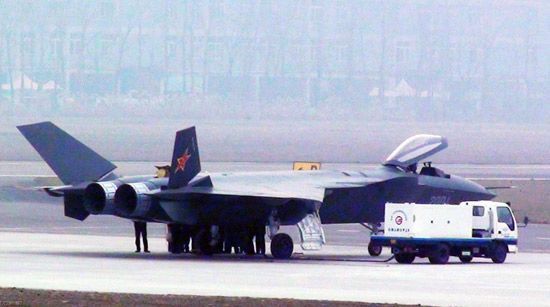 Data Figure: China's newest F-20 fighter planes
to focus on trends in the Asia Pacific region Japan-based "foreign scholars' Web site reported on April 9," 2010 China's defense white paper, "the report continues the tradition of Chinese military capabilities, but for many the focus of attention of military analysts, the report is always avoided. However commendable, the 2010 "white paper" is a well-written document that provides for comprehensive development of China's military development and the trend insights. Beijing's attitude to the defense of transparency is very positive, although compared to the expectations of the outside world it is still a certain distance.
article said, we recognize that China's "national defense white paper" far away from the discussion of specific systems and military capabilities. However, we believe, by the United States or other countries for the analysis of China's military file would still help to understand China's military strategy. In addition, the rapid development such as China have a lot of modernization process of the armed forces conducted military activities in the home, from which you can learn more.
on China's military capabilities of external devices and the analysis of the U.S. military's Quadrennial Defense Review and Nuclear Posture Review is a good example of these two reports contain China's strategic intentions, more detailed discusses the hardware and purchasing plans. In addition, the military of other countries tend to publish official statements and documents, discussions and other activities of the normal procurement exchange. The biannual China, "Defense White Paper" on the other hand can be a good complement to ignore the United States and other developed countries on China's military development.
China's "Defense White Paper" should be better reporting about foreign countries, especially the United States and other Asian neighbors are concerned about the military focus. The authors focus on those under the military importance of the score from 1 to 10 made comments, the higher number indicates that this is more concerned about foreign military analysts theme.
Chinese anti-ship ballistic missile (ASBM) development (9.0)
The report did not describe the specific anti-ship ballistic missile programs. According to Navy News in 2010, the Chinese anti-ship missile has an initial operational capability (IOC), which is very worthy of attention. U.S. Navy reported the possible bit late, although Beijing's official silence on the military planning; In fact, the program had been started several years ago. According to the U.S. military's assessment, this has a 1500 km range anti-ship missile system for China's military strategy, plays a very important role; because it may help expand China's military deterrent to the South China Sea, the North Indian Ocean and the Western Pacific.
Chinese anti-ship ballistic missile programs in other countries, there will be two main effects: (1) may make an ally of the U.S. National suspect in China's military deterrence, the U.S. ability to continue to protect their security; (2) anti-ship missile to make it prudent to examine its neighboring waters submarine military activities, especially the United States and other countries outside Japan, because they lack the advanced sea-based anti-missile missile system.
rapid development of China's space-based intelligence, surveillance and reconnaissance (ISR) capability (7.0)
2010, China's number of levels of the U.S. space launch first introduced digital. More importantly, a large part of Chinese satellite launches, could help China build the surrounding maritime surveillance capability. Since December 2009, China launched 7 remote sensing satellite, which means that China attaches great importance to space reconnaissance technology. Satellite Remote Sensing 9, A, B, C Of particular concern is that they are flying in formation; This suggests that their function is similar to the Naval Ocean Surveillance System (NOSS) monitoring platform. "Jane's Defense Weekly," said the satellites carry infrared sensors to help them locate the vessel, also means that they can provide accurate anti-ship ballistic missile targeting. According to reports, China is also preparing to launch in June 2011, the second day of joint satellite data, together with the "Tianlian 1″, coverage will reach 75% of the Earth's surface; and improved data link capabilities will help enhance China's anti-ship missile system.
2010 年 1 月 anti-missile/anti-satellite test (6.5)
2010 In January, China successfully tested an anti-ballistic missile to intercept the middle ( ABM), may be related to weather satellite in January 2007 to destroy anti-satellite system is based on a system. China's number of successful tests show that the PLA in the conflict, the use of these sophisticated counter-surveillance and anti-satellite system to combat the U.S. military reconnaissance and other military satellites.
advanced F -20 fighter flight (5.5)
Australian Air Force military analyst Carlo – Fred Dr. (Carlo Kopp) that, at all levels , Five machines have the characteristics of the Chinese F -20 fighter to be better than the U.S. F-35 "Lightning II". With the joint development with the U.S. F-35 allies to leave the country, F-35 in many ways in a very awkward position.
Chinese carrier development (5.0)
"2010 Chinese Defense White Paper" does not involve any development of the Chinese aircraft carrier. It is reported that China's rapid renovation of the former Soviet Union, "Kuznetsov" aircraft carrier; U.S. Navy intelligence report said it will be put into use in 2012. According to "Asahi Shimbun" reported that China has decided to plan a nationwide carrier, built in 2014, including displacement of 5-6 million tons of conventional aircraft carrier, nuclear-powered aircraft carrier built in 2020. China to build aircraft carriers faced with a variety of great challenge, however, a growing defense budget (the official rise in 2011 to 91.5 billion U.S. dollars), the domestic shipyards have experience in building large commercial vessels, may overcome these difficulties.
carrier can really take some time to run the run; the same time, the Chinese aircraft carrier battle group if the confrontation with the U.S. Navy should also account for less than cheap. Nevertheless, the aircraft carrier battle groups in the South China Sea, Southeast Asia, and the Indian Ocean waters reflect the Chinese navy's key military presence. In those areas, several aircraft carrier battle groups there an ongoing need. (Sri Lanka years)